Pleated skirts are one of my favorite items to wear this time of year. The weather is still hot and humid so wearing something form fitting isn't exactly ideal. Pleated skirts are stylish, always on trend and provide a breathable garment for these warm months. They can also be worn past in different seasons. I'm constantly harping about versatility in your wardrobe and this skirt can provide just that. You can wear it in the Fall with booties or over the knee booties. You can wear it during the transitional period of Winter to Spring as I've done with this look and everything in between. It's effortless design can work with any style.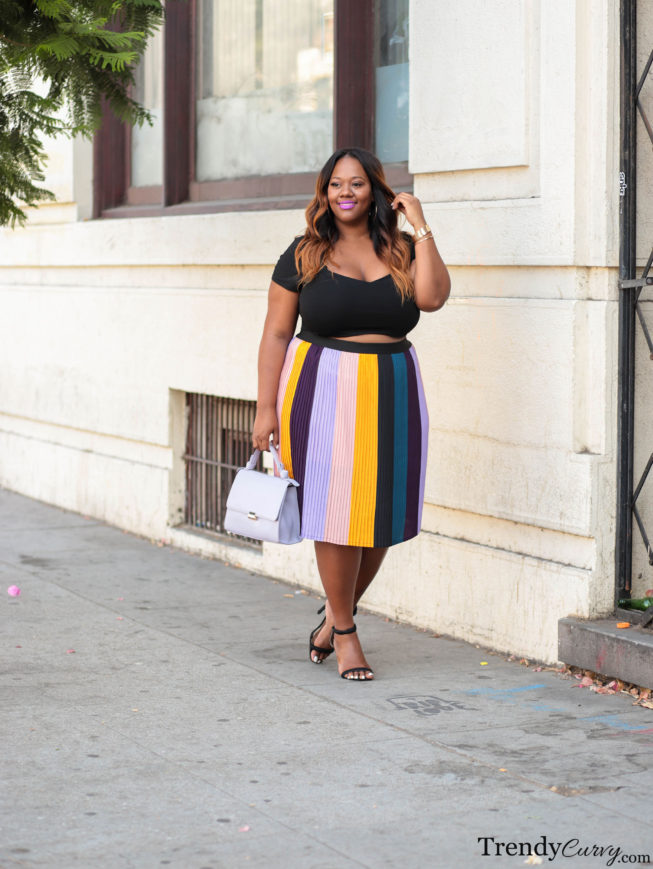 I have been loving the new arrivals from Target lately as they start to infuse Fall-like pieces. My love for pleated skirts mixed with my love for color made me a magnet to this garment. The blends of shades used to make the stripe pattern in the skirt is something that I had not seen before. I wouldn't think that bright yellow, pastel lavender and deep burgundy could ever work in the same look let alone the same garment but somehow it just does!
The skirt is definitely the statement piece so it really didn't need much help. I simply paired it with a black crop top and simple black heels. If you are nervous about wearing crop tops, I'd advise you to wear them with a midi skirt of some kind that flows away from your body. That way it balances everything out and gives a nice contrast to the top. I also snagged this lavender bag from Target as well that just was the perfect accessory to complete this look. Summer to Fall transition is officially in session.
Outfit details:
Top: ASOS | Skirt: Target | Shoes: Apt. 9 (similar) | Bag: Target | Lipstick: Stila Cosmetics (The color is Como – 3rd row down)
Photographer: Steve Suavemente