As time goes on during these quarantine times, I find myself missing travel more and more. I have always been appreciative of all of the travel experiences that I have been afforded. However, times like these have really made me grateful and I find myself longing for another getaway. Especially as we approach Summer, this would have been the perfect time to take a trip whether big or small. While I do reminisce and wish that I could just pick up and go like before, it is important to stay in a place of positivity and hopefulness. I find it to be really crucial to remaining in a good place mentally. So, since I can't go somewhere tropical (yet!), I'm just going to wear them!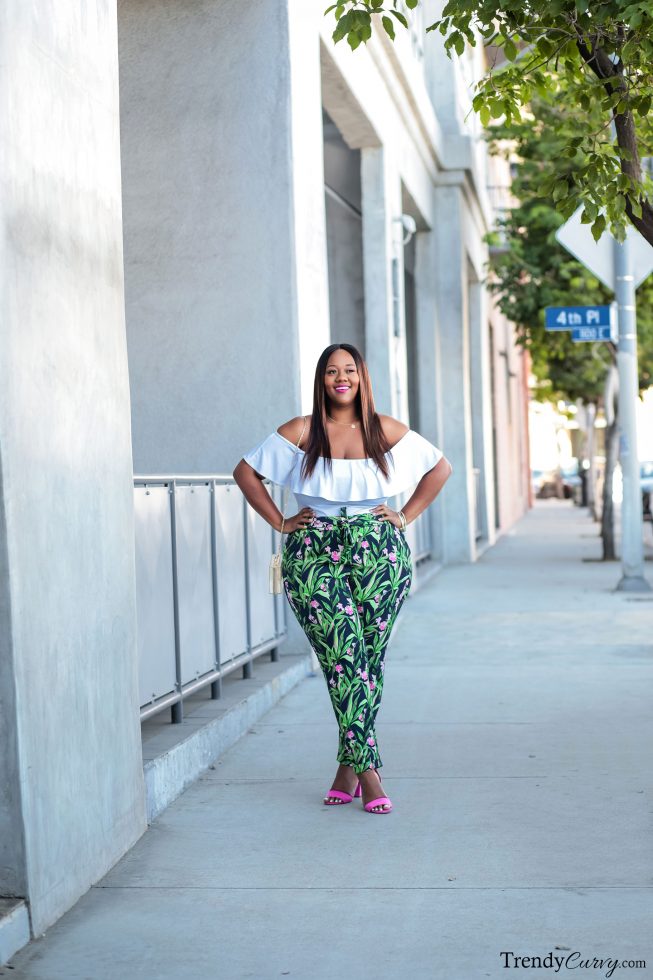 I was browsing the internet and stumbled on these tropical-print inspired pants that I was just drawn to. Now I realize that it was based on my wanderlust. The print was definitely unique and eye-catching, a perfect seasonal statement piece. I also really like the style of the sporty, yet sophisticated jogger silhouette. I wasn't sure how they would fit since pants can be hit or miss when they are not plus size. However, I decided to take the chance and I'm so glad that I did.
Although these pants are just a piece of clothing, I think that there is an important lesson in this as we navigate through these hard times. The lesson is that whenever you feel yourself drifting into an unfavorable mental space, do something to counteract that. Self-care, a little rest & relaxation, retail therapy – whatever it looks like for you. Be sure to take care of yourself both physically and mentally.
Hope that you all are continuing to be well! Be sure to check out the outfit details below.
Outfit Details:
Top: Boohoo | Pants: New York & Company (wearing a size XXL) | Shoes:
Photographer: Steve Suavemente