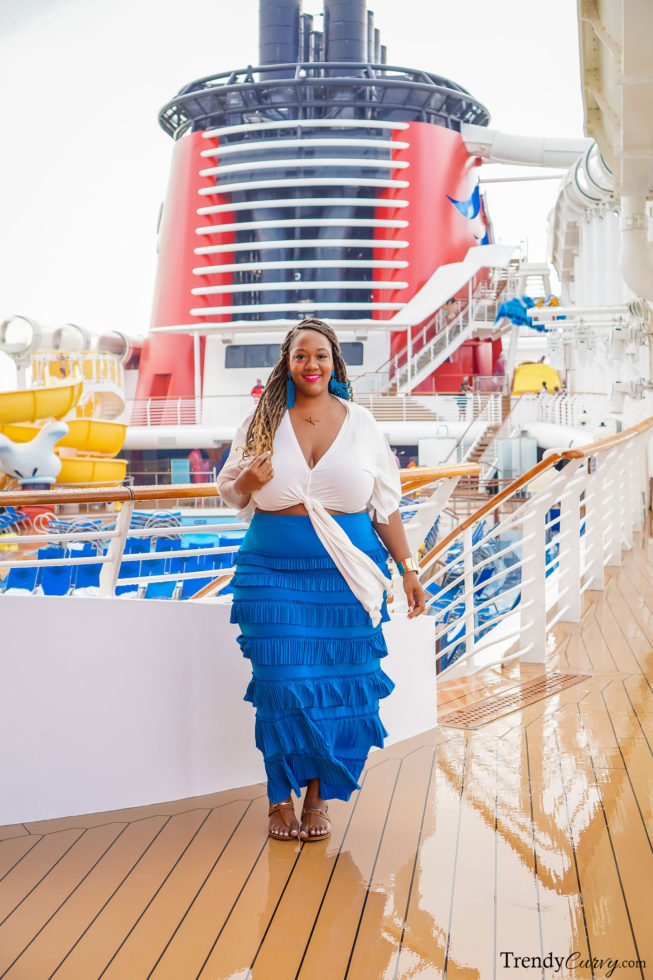 If you follow me on social media (which you should), you know that I recently spent a whirlwind 7 days at the Disney Creators Land & Sea event. This event brought together influencers from across the country to spend 3 nights at the new Disney Riviera Resort and 3 nights aboard the Disney Dream sailing away to the Bahamas. It was jam-packed with all sorts of activities, exclusives and more that I will get into in my next blog post. First up though, I wanted to recap my experience on my first Disney cruise…as a young adult…with no children. Is a Disney Cruise for adults? Let's get into it.
Outfit Details:

I've been on probably 4 other cruises with Carnival & Royal Caribbean so I kind of knew what to expect when cruising. However, I was admittedly a little nervous about how this particular cruise would go since Disney caters to kids and families. I went into this experience fully open-minded, though, and ready to enjoy all it had to offer.
Disney Dream Deluxe Verandah Stateroom
We stayed in the Deluxe Oceanview Verandah stateroom that was really spacious. It was so easy to walk about and did not feel cramped at all. There were two separate closet spaces, a split bathroom (one with a toilet/sink & the other with a shower/sink), a couch that converts into a bed, a desk area and a queen sized bed. The split bathroom is a genius idea because it meant that two people could get ready at the same time. For me who needs her own space and takes some time getting ready, this was everything!
Outfit Details – Dress: Amazon
Disney Cruise Activities for Adults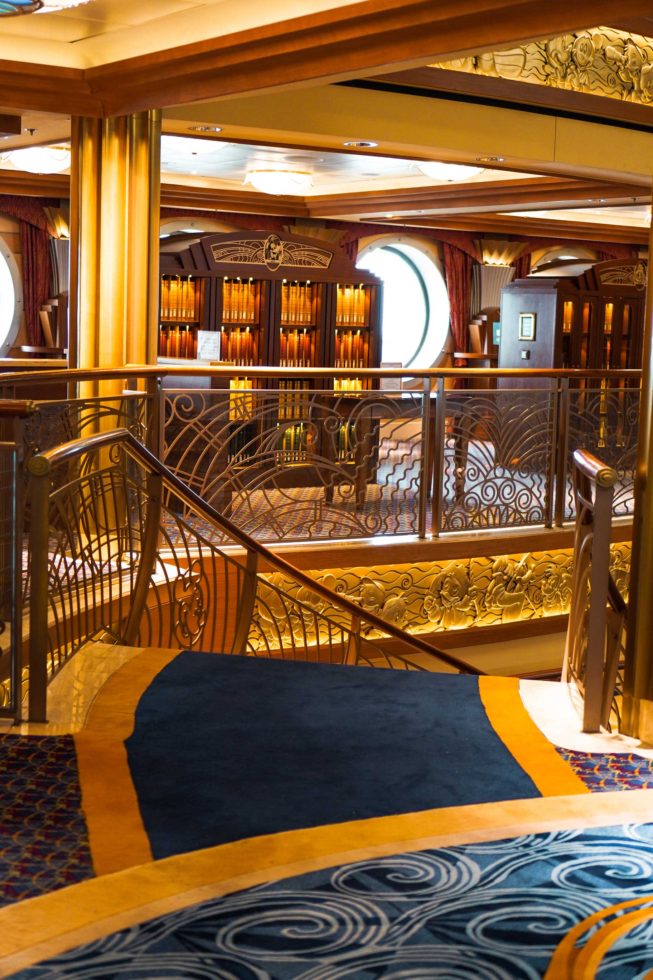 Let me get this out of the way – Disney cruises come with a lot of kids. With that being said, there are a TON of activities for kids of all ages. So aside from common areas and boat-wide events, I would really only see them in passing.
Quiet Cove Pool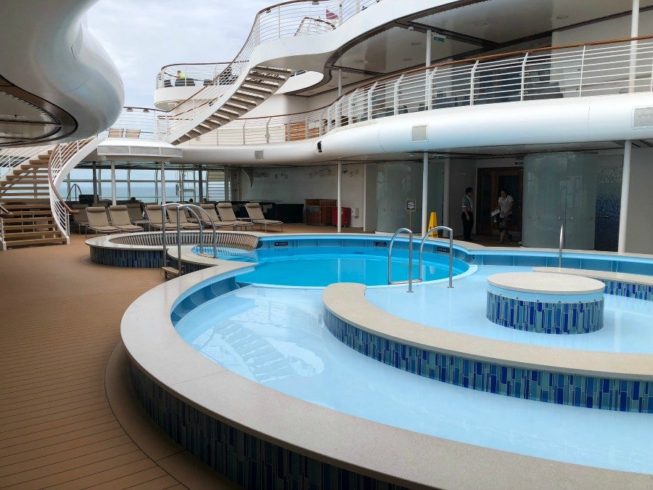 Feel free to indulge in the adults only pool on the Disney Dream. This secluded area was away from the main pool and had a bar so that you can have a poolside cocktail. It was a quiet area for you to relax in peace.
Palo – Disney Cruise Adult Dining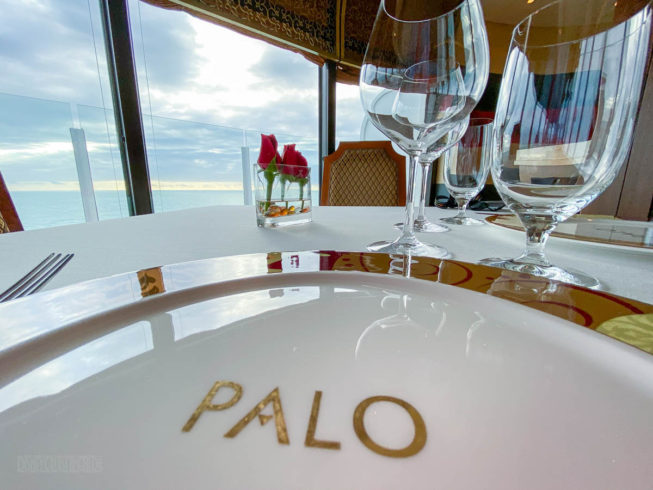 Palo is a restaurant that is not included in the cruise fare. It is upscale Italian cuisine that is $40 per person. I heard great things about it so I definitely had to try it out. The restaurant is adults-only I'm sure just because of the nature of the cuisine and style of restaurant. It had really great vibes, the food was delicious and the service was outstanding. It was like a fancy date night on the ship!
Pro-tip: Choose the second seating for your standard dining. There are less kids since its later on in the evening.
After Hours Fun
We went to pretty much all of the after-dinner adult activities at Evolution Bar. Evolution is within "The District" which is a designated adults-only portion of the ship. The nightly activities included games similar to Family Feud, the Newlywed Game and a couple of other bizarre ones that were so much fun. The host was fantastic and so funny. There was also silent disco every night followed by a DJ.
Castaway Cay – Serenity Bay
Outfit Details:

My favorite part of the cruise was Castaway Cay, Disney's private island. It is so beautiful and pristine that I really wish we had an extra day there. I would honestly book another Disney cruise just to go back. There are trams that take you around to the different parts of the island which is fairly spread out. I opted for the adults-only section called Serenity Bay. It is named appropriately because it was just that…serene. Crystal clear blue water, delicious BBQ lunch buffet, an amazing little band that just set the vibe by singing The Bee Gees, Bruno Mars, etc. It was perfect!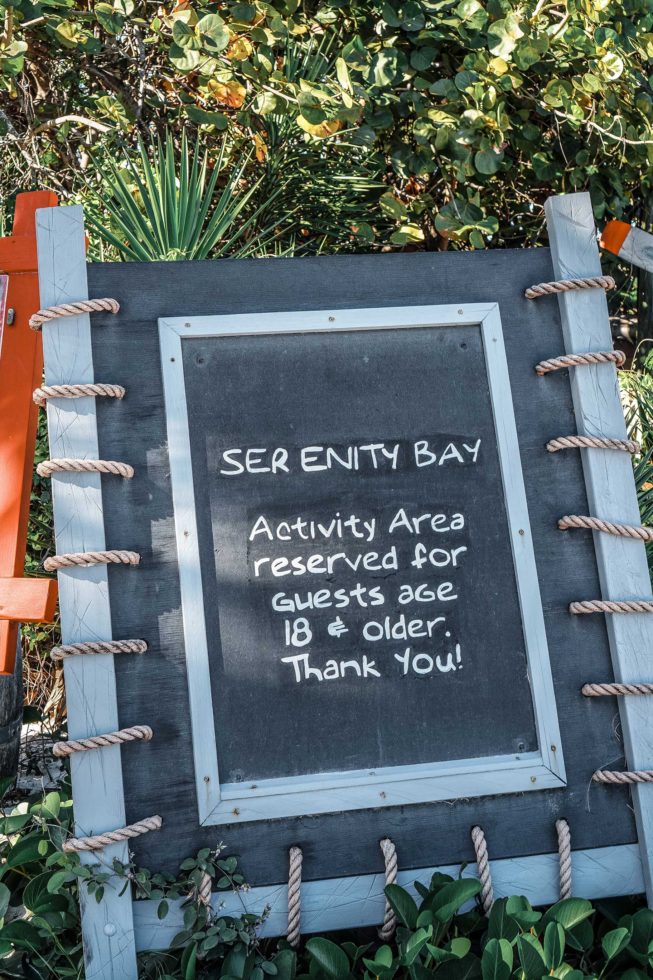 I also wanted to check out the family beach as well, which was so robust. Of course because it is meant for families, there was a lot more activities to do there. They had floats, bikes, shopping, water slides, etc. It was great to be able to get the best of both worlds.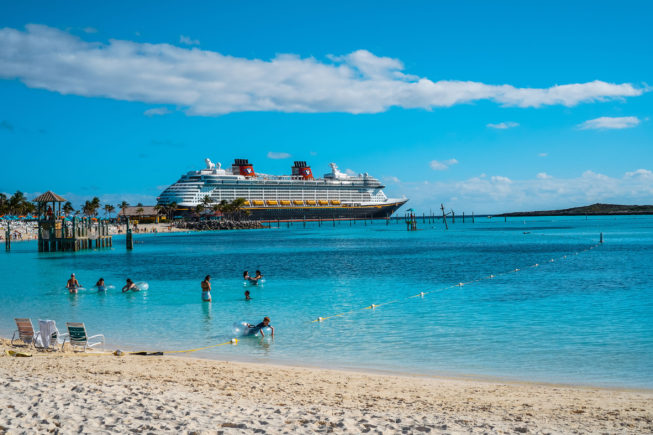 So in conclusion, would I recommend a Disney cruise for adults? Absolutely! Aside from there being plenty of activities to get involved in that cater to adults, I just felt so well taken care of by the staff. Everyone was so friendly, they remembered my name, they clapped as you came aboard the ship. It was just a great experience!
Until next time Disney!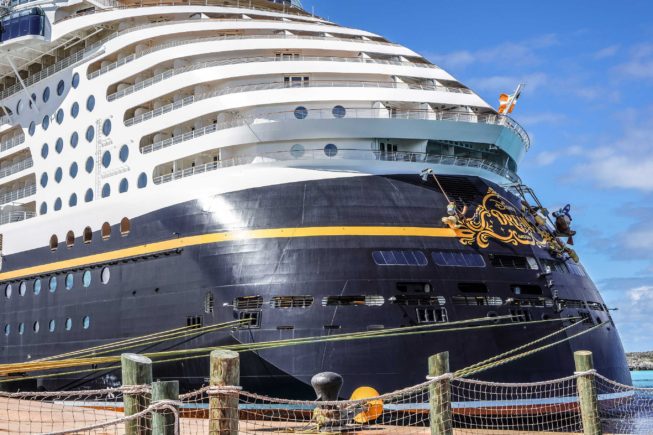 Photographer: Steve Suavemente
*This was a hosted experience. All opinions are my own