This is one of those outfits where you realize the power of accessories. Here's how this look all came together. Recently, I went to my local Nordstrom and decided to check out the clothing section. I really haven't shopped in store at Nordstrom in a very long time. I felt that their plus size section was seriously lacking in style so it just hadn't become one of my go-to places. However, I was pleasantly surprised by increase in brands that were carrying plus size, some with a full range from XS, all the way up to a 4x!
The Top
I bought three things that day, this top being one of them. I absolutely loved the color and the material is not your typical tank. It's made of a very soft and stretchy material that at the same time really feels supportive on the body. It is also double layered, which I'm sure adds to the feeling of being held in nicely.
The Bag
So then, I was at Target picking up things that I didn't need, and I came across the accessories. I eyed this circle tote bag that seemed to match the top that I had just purchased perfectly! It was the last one so I felt like it was fate. I bought it, along with the shoes that I'm wearing (see outfit details for how these are a must!).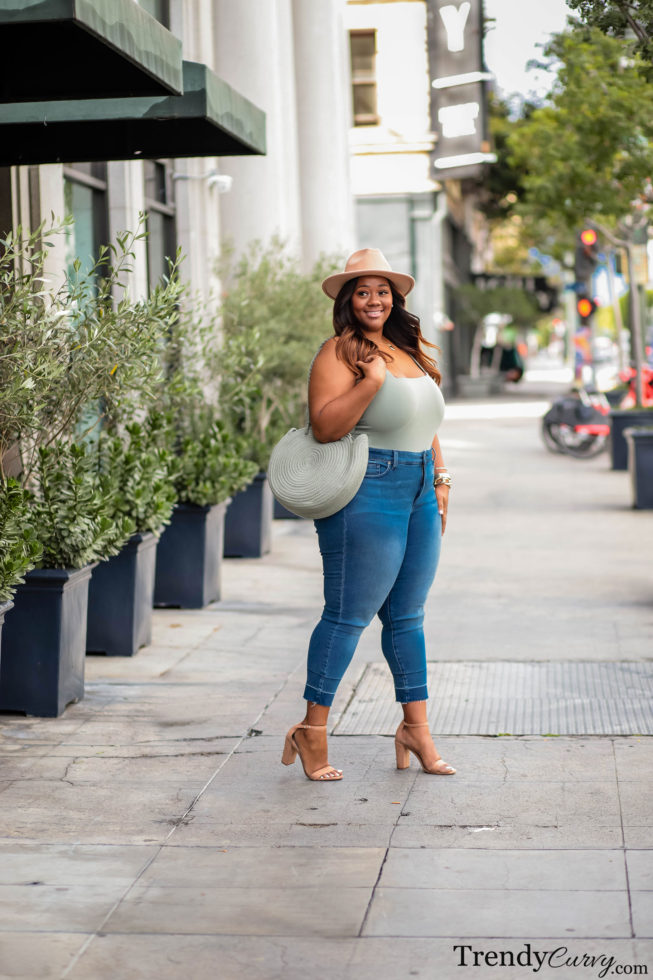 The Final Touches
I went home, tried it all on with a pair of NYDJ jeans that I owned and loved it! The seafoam green went together so well with the beige shoe and the tote just set it off. I thought to myself though, "It needs one more thing to really set it off". That thing was a hat! I had just gotten in a delivery from Amazon of a hat that I ordered. It was only $16 and exactly what I was looking for. I was hoping that it would look right on me and it did. Everything just came together so seamlessly (don't you just love when that happens?!).
All of the outfit details are below so be sure to check it out there. Happy shopping!
Outfit Details:
Top: Nordstrom | Jeans: NYDJ (see below) | Shoes: Target (see below) | Bag: Target | Hat: Amazon
Jeans – Slight lighter wash, however same jeans. These have great tummy control. Highly recommend
Shoes – These are a must-have shoe staple! These types of heels go with literally everything. I may or may not have worn them three times already since purchasing. They are chunky heel, so very comfortable to wear and just the right height.
Photographer: Steve Suavemente