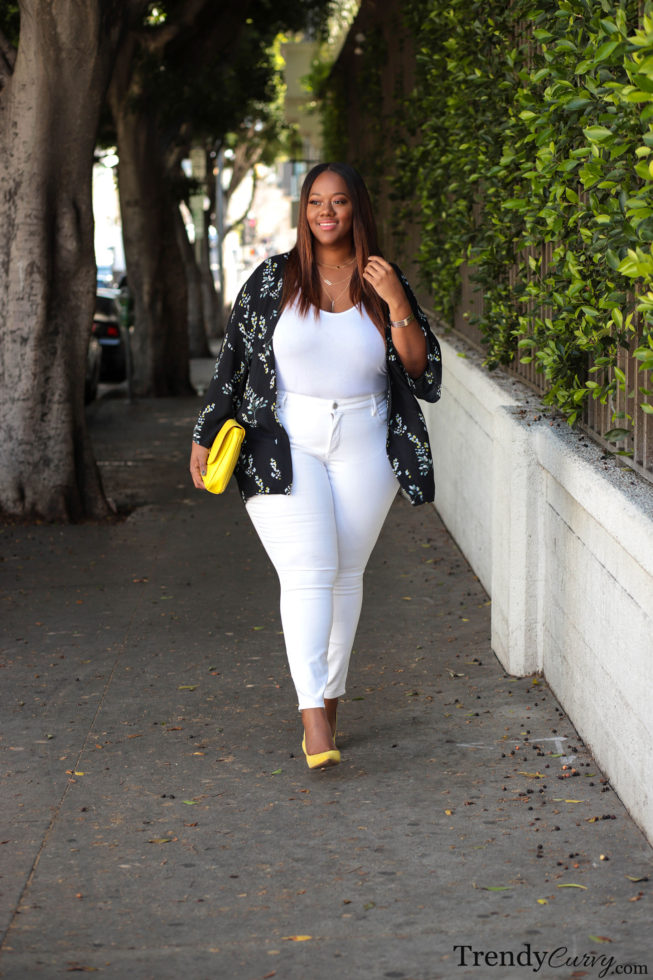 Confession: I used to avoid white denim completely! I was always so fearful that it would be unflattering on my body. This is partly due to the fact that it was a common "rule" that white denim on plus size women was not the best idea. As I started to explore my style more, I decided to challenge this notion and wear it anyway. And guess what? I loved it! I had been avoiding an entire garment that turned out to only enhance my style. The key that I found though, is to invest in a great, quality pair so that you feel supported and comfortable.
Ever since the launch of LOFT's plus size line, I have become such a fan of their denim. As you can see in this post, I named them as one of my favorite brands. They offer such a great blend of stretch and structure. So, it goes without saying that their white denim follows suit. They are perfect for Spring and can bring a bright, fresh element to your look.
Since Spring is in full swing, florals are the prominent print of the season. One of my favorite garments during this time of year is the kimono. It's one of those items that pairs easily with a myriad of different things and requires little to no effort to style. This flower branch kimono from LOFT was perfect to pair with their white denim. The dark color against the green and yellow print provides a subtle pop of color. It's also a great contrast to the white palette underneath.
If you have not yet shopped the plus size line at LOFT, you are definitely missing out. They have such a wide range of styles from casual to wear-to-work and even swimwear. With inclusive sizing from a 16 to a 26, it is evident that they are dedicated to providing quality to their plus size consumers. Be sure to check out the outfit details below so that you, too, can be on-trend for Spring!
Outfit details:

Photographer: Steve Suavemente
*This post is sponsored by LOFT. All opinions are my own