A great pair of plus size denim can be really hard to find. In fact, it's really hard for any woman to find jeans that she loves. I am in the unique position where I have been able to try a lot of different brands being that I am a blogger. Sometimes, I receive gifted denim to try and I also have worked with some of these brands on campaigns. I have felt everything from "wow this fit is atrocious" to "how have I ever lived a day without these".
Today, we are going to focus on the latter and the brands that, in my opinion, are just doing it right. And while I did mention that I have done campaigns with some of these brands, this post in particular is not sponsored. I give my honest feedback whether a post is sponsored or not but I just wanted to make that clear upfront. Also, this is in no particular order.
NYDJ
Denim that I'm wearing can be found here: Ami Skinny Jean
If you are looking for something with optimal stretch, NYDJ is the brand for you! These are the most comfortable denim that I own and they are so stretchy that it is recommended you go down a size, maybe even two. When does that ever happen?! I sized down from a size 18 to a size 16 and I actually feel like I could have gone down one more. These jeans are made to conform to your body with curves in mind. They have so many styles available from skinny, to straight, to boot cut. They also carry a wide range of sizes starting at a size 00 all to way up to a 28W! That's in addition to carrying regular, petite and tall. Talk about being inclusive!
NYDJ can definitely be a bit pricey for a pair of denim. However, Nordstrom Rack has amazing sales when you can catch them. They have several styles on their site selling at only $54 and I've listed them below! Snag them before they are gone because they go fast (I know this from personal experience)!

---
LOFT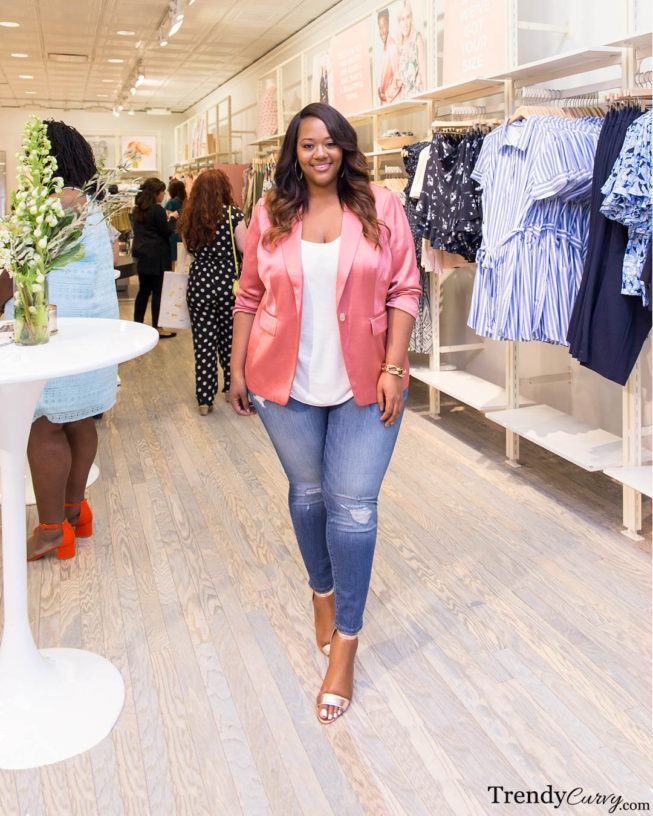 (Above) Denim can be found here: LOFT Plus Modern Distressed Skinny Jean (slightly darker wash)
I was first introduced to LOFT when they launched plus size earlier this year. I had never worn the brand before because they hadn't carried my size up until that point. To really make a splash, LOFT did an amazing campaign full of pop-up parties all across the country bringing in plus size influencers to host. I was fortunate enough to co-host a plus size pop-up in Glendale, CA where I really got to touch, feel and try on the collection. I instantly fell in love with their denim and was actually quite surprised at how much they got it right for the plus size consumer. These jeans are the perfect blend of stretch and structure. They conform to your shape while holding you in at all the right places. BONUS: their jeans are 30% off right now so head over to get your pair!
A few of my favorites:

---
Celebrity Pink
I stumbled upon Celebrity Pink while browsing through the racks at Macy's. The brand was unfamiliar to me but I thought I'd give it a try. I went into a dimly lit fitting room (side note: department stores, let's get it together with these plus size section dressing rooms please) and I was so pleased with the fit. What made it even better was when I went to the register and found out the price! The clerk rang me up and I thought that she got it wrong. I quickly discovered that the price was indeed correct and I ran out of there like that lady on the Ikea commercial (start the car!!). These are the best fitting, economically priced plus size denim on the market. They are almost always on sale so you can get a pair for under $30. A steal to say the least! Shop below.

---
Torrid
Last but certainly not least is Torrid. I have to admit that I did not realize how good Torrid's jeans were until very recently. I don't know why I had never tried a pair, but it wasn't until I visited their headquarters that I discovered their true magic. I'm not surprised that a legacy brand such as Torrid would get it right but I was surprised at how quickly they shot up to one of my favorites. Torrid's denim has a unique structure that is unlike anything that I have tried on before. It has an elastic band around the waist that allows it to almost snap in place and cinch in your waist. However, it's still very breathable and comfortable to wear.
I have not yet taken any professional shots in these jeans however I have worn then in my Instagram stories. I also have a video on my Instagram showcasing the different jeans and the Torrid ones are the first and the last. Check out below for some of my favorites on sale for $55 and the full collection here!
Photographer: Steve Suavemente