Ever since the beginning of my blog, one thing that I have preached and will continue to preach is about fit. The way your clothes fit your body is the most important thing when it comes to styling your looks. If a garment does not fit well, it detracts from the fashion and doesn't allow your outfit to shine. I learned early on that I couldn't hold on to the number on the back of my shirt but had to go with whatever size worked best for my body. Sometimes that even meant sizing up but I realized that no one will ever know what size I am wearing. I was getting hung up on the wrong things in concentrating more on the size versus the fit. And the result was ill-fitting garments that did my body no favors. When I finally came to realization that I needed to approach clothing in a different way, I became much more confident in how I was presenting myself. I knew that what I was wearing was the best choice for me, my body & my shape and I have kept to that philosophy ever since.
This same principle can translate to many different things including your feminine products. What used to be a "one size fits all" product is now much more personal to each individual. So much so that Always has created Always My Fit™ which is a system designed to help women find the right size pad based on their panty size and flow. Just like I had the revelation that I was wearing clothing that was too small for me, I also came to know that my feminine products were not right for my body. Many things that I thought were normal and just "came with the territory" were actually totally preventable had I had the correct fit. And here's another thing – I'm not alone. In fact, studies show that 60% of women are wearing the wrong size pad and 80% experience leaks every month. Good news though! These are all things that can be corrected with the Always My Fit system.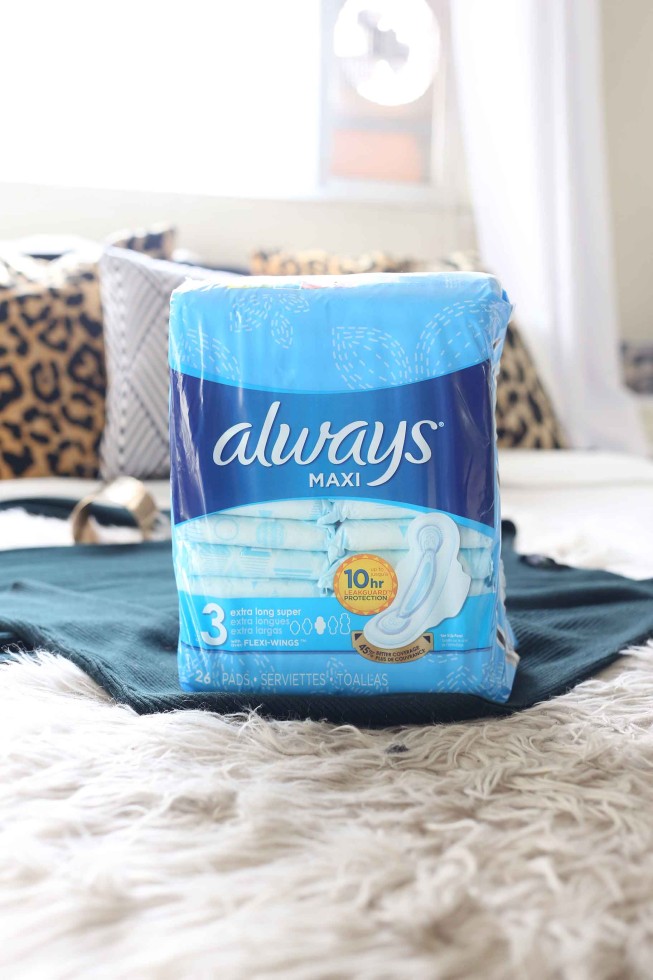 What I discovered by taking the Always My Fit™ quiz is that the best product for me is a size 3. That provided me with much better coverage, longer leak protection and best of all the peace of mind in knowing that I wouldn't have to worry.  After all, this is something that we as women have to encounter every month so it might as well be a better experience. Here's a chart to see what would be the best size for you. As you will see, the Always My Fit system consists of 5 sizes. The reason for the range is to provide the best coverage for day and nighttime use. Everyone's bodies are unique and the same goes for each person's menstrual flow.  While you may find that a certain size works best for you throughout the day, at night you may have different needs. The Always My Fit system has several options to fit your shape and flow.
I know for me personally, I had an "ah ha" moment when realizing that I should size up to a size 3. I, I'm sure like many of you, was a creature of habit in purchasing the same products month after month. Even when I experienced leaks (which were totally embarrassing by the way), it did not occur to me that it was the size of the pad that was the problem. We aren't even going to mention the time that I experienced a leak at a Spring wedding in a light-colored dress. That was not fun at all! I finally saw the light and knew I needed to make a change.
To find the best size for you, you should:
Take the Always My Fit quiz answering the questions as honestly as possible
Look at the chart that is located at the top of Always pad packages
Pay attention to your body during your menstrual cycle to select the best coverage for day and night
So in conclusion, fit matters! Find the best products to fit your body since everyone is unique. Your future self will thank you!
Photographer: Steve Suavemente
*This post is sponsored by Always. All opinions are my own