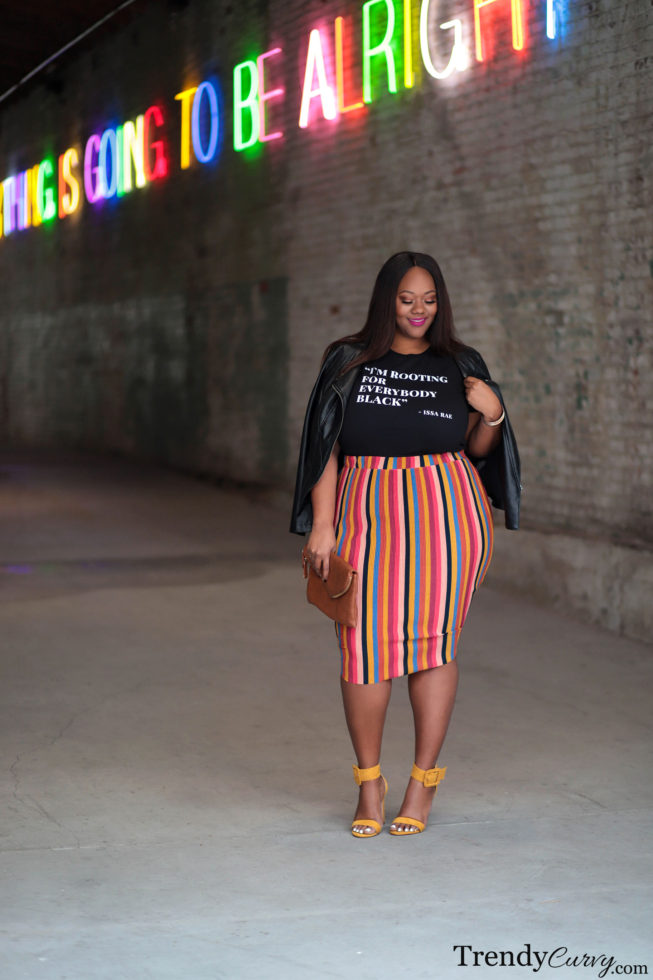 Outfit details – Jacket: Style & Co. (similar) | Top: Etsy | Skirt: Target | Shoes: Forever 21
On this last day of Black History Month, I felt the need to create this post. I would be remiss if I did not highlight some of the black-owned businesses that I have come to know and love.  Although TrendyCurvy is about fashion, I think that it is also important to bring attention to things that I am passionate about. One of those things is the advancement of people of color so that we are better represented financially and economically. So, I have compiled a small list of some of the brands that I am a frequent customer of to share with you. This is in the hopes that you may discover a new product that you love like I do. It is also to challenge you to think more consciously about where you spend your money and to support more minority-owned companies. So, without further adieu, let's get into it!
Beauty
I am frequently asked about what brand of lipstick that I'm wearing and nine times out of ten, I have on Coloured Raine. I first got introduced to this brand from a beauty blogger and have been hooked ever since. Every color that I tried suited me so well and when I discovered that the company was founded by a black woman, I knew exactly why. Perfectly pigmented and so complimentary to my skin tone, I have purchased their products again and again.My absolute favorite shades that I have purchased countless times are Cherry Blossom (thee perfect red), Oh La La (a vibrant raspberry pink) and Berri Raine (purple kisses anyone?). As you can see from two of these being sold out, they are definitely the favorites. Don't fret though, just join the waiting list and you will be notified once they become available again.
I'm also hooked on their eye shadows as well including this gorgeous Queen of Hearts palette (even more stunning in person).
I discovered this brand from another influencer, Kela Walker. If you don't follow her on Instagram, you should! She is constantly putting her following up on game when it comes to beauty and skincare products. She did an unboxing on her Instagram stories of this immaculate shade of liquid matte lipstick that I had to have! Turns out, the lipstick was from not only from a black-owned brand, but it retails for only $13. SIGN ME UP! I immediately went on to their website and cleaned up buying several shades.
Skincare
As I get older, skincare has become the utmost priority when it comes to my daily routine. In researching products for my skin, I discovered that women of color tend to face the same struggles. This is partly due to our complexion and genetics. Because of that, we need specific products to address our particular needs. Things like hyper pigmentation, melasma and dark spots are all areas of concern.
In comes M. Roze. I was contacted by someone from the company who graciously offered to send me products to try. Their products being vegan, gluten-free, paraben-free, and are specifically formulated for black women. I began incorporating them into my regimen and over time, have seen a difference in the look and feel of my skin. Plus, the packaging is so perfectly chic and simple.
Fashion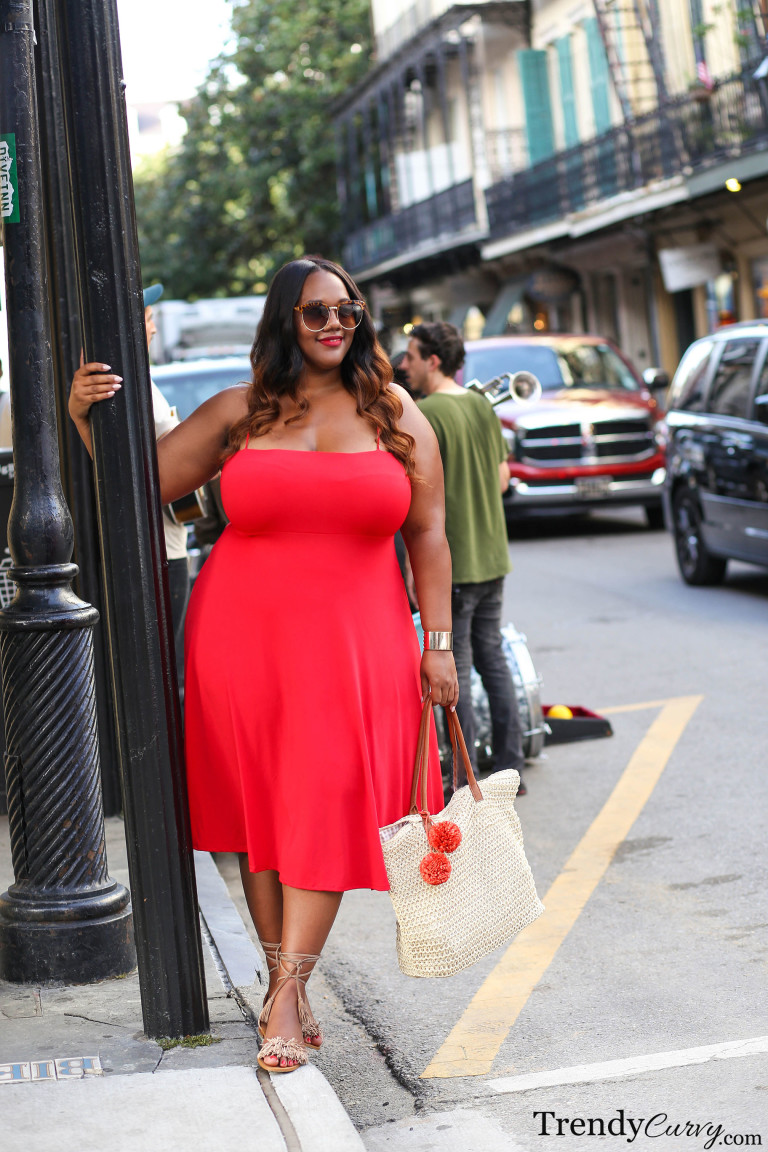 Wearing Rue 107 while in New Orleans
I could not do a round up of black businesses and not touch on this fashion brand. If you have not heard of Rue 107, you should definitely get familiar with them. They have unique, super stylish pieces that are sure to be head turners. With sizes ranging from a small all the way to a 3x, they really have something for just about everyone. I love their eye-catching colors and prints, as well as their styles that I don't see anywhere else. Founded by Marie Jean-Baptiste, Rue 107 based out of New York is definitely one of my favorites.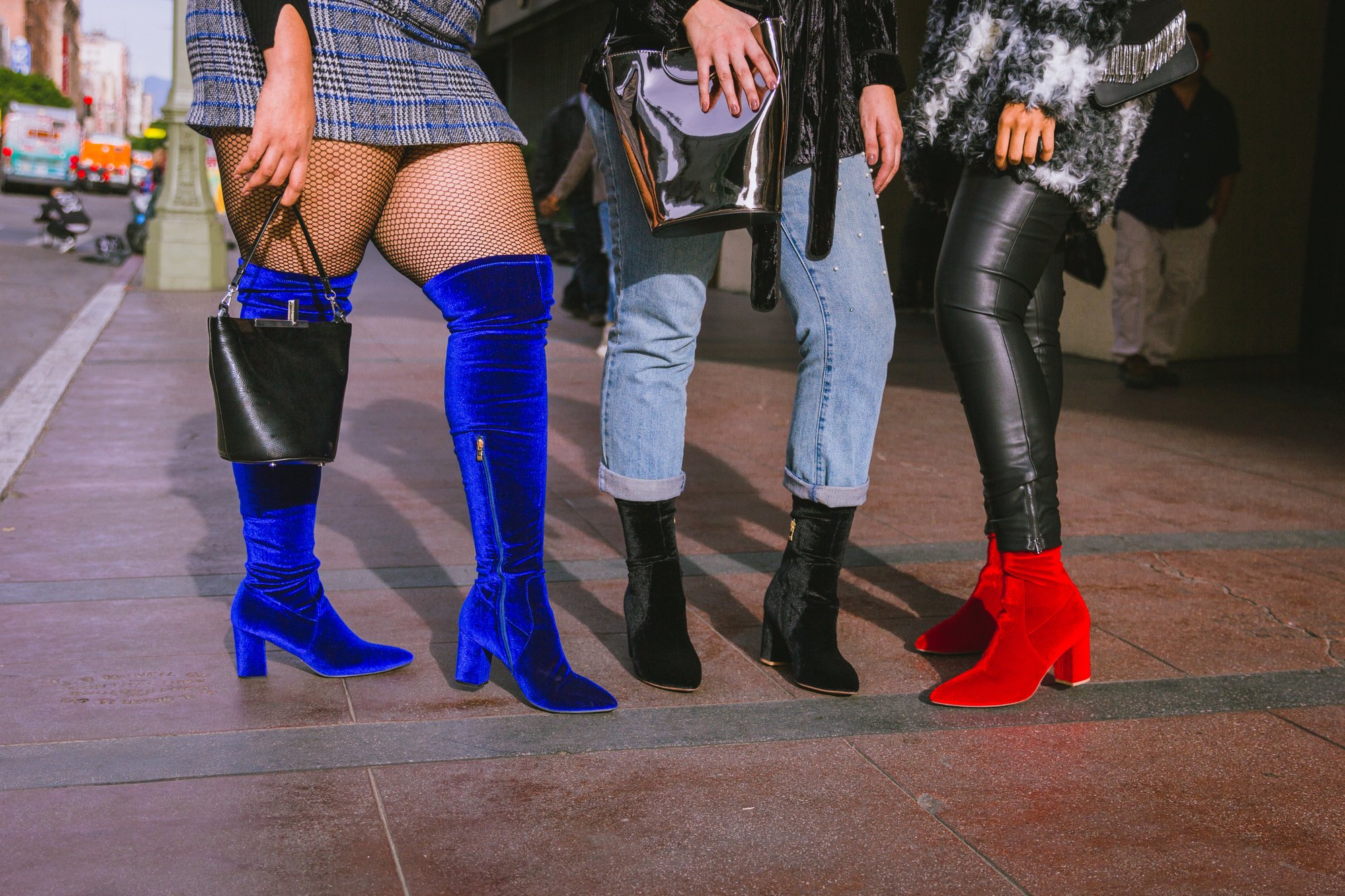 Now, I am a little biased about this one because the owner of Smash Shoes, Ashlie Davis, is a friend of mine. However, that's even more reason to highlight her brand in my opinion. Ashlie has tapped into a hole in the market and that is fashionable shoes for sizes 11 and up. Being of a larger shoe size herself, she knows personally the struggle that it is to fine on-trend footwear. So, she took it into her own hands and Smash Shoes was birthed. She has everything from thigh high boots, to booties, to sandals and more.
Lifestyle
This past year, I visited Napa for the first time. One of the first things on my to-do list was to visit Brown Estate. Travel Noire is a website that I follow that is dedicated to offering travel inspiration and tips from the perspective of the African diaspora. They published an article that highlighted black-owned wineries of which Brown Estate was listed. They have a beautiful tasting room right in the center of downtown Napa.
Thanks so much for taking the time to read this post and I hope that you found it helpful! Happy Black History Month!
Photographer: Steve Suavemente