Outfit details – Duster: Forever 21 | Tank Top: Old Navy | Jeans: LOFT | Pumps: Nine West
My suitcases (yes plural) have not been unpacked, my clothes are everywhere and I can't find anything but I had to take a moment to catch you all up on my recent trips. I was fortunate enough to be invited up to San Francisco, one of my favorite cities, for a fun few days with Alaska Air. My mom is originally from Oakland, which is the neighboring city to San Francisco, so it really feels like a second home. Plus, it's a quick hour flight up the coast from Los Angeles and let me tell you, I got to ride in style.
Flight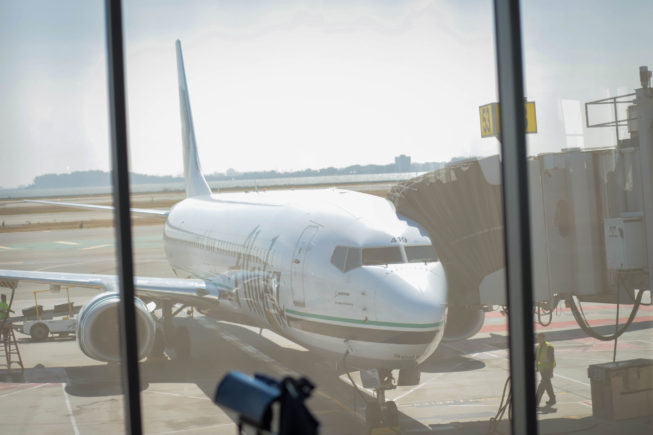 You may or not be aware, but Alaska Air acquired Virgin America some time ago and the two brands have now merged into one. I know the question on many people's minds is probably, "well, doesn't Alaska Air only fly to Alaska?" Or you could be thinking that Alaska Air only has routes that are up and down the West Coast stopping at cities in between Los Angeles and Alaska. In all actuality, Alaska Air flies to many different cities across the US and even internationally to Mexico and Costa Rica. In fact, I continued my Alaska Air experience by flying from San Francisco to New York for Fashion Week (recap coming next). You can check out the full list of cities that they fly to so that you can consider them for your next trip!
Hotel
So while in San Francisco, I stayed at the Proper Hotel which is one of my new favorite places. Everything from the decor, to the service, to the amazing drinks makes this hotel a perfect destination to stay in. It was my first time staying here and it definitely made an impression. Upon arriving, we headed to the lobby bar which is probably the most stunning lobby bars that I have encountered. Fellow blogger Sheryl from Walk In Wonderland was also on the trip, so my boyfriend and I had drinks with her and her husband. It was quite the experience! The artistry and care taken making our beverages by our bartender, Moises, was unparalleled. He really set the tone for our stay.
When getting up to the room, I was amazed at how it had so many different elements but somehow worked so well together. There were various wall papers, patterns and textures all over the room that I never would have thought to mix. In fact, I'm sure if I would have done it myself, it would have been a disaster. It was very cozy, chic and eclectic.
Best San Francisco Rooftop Bar
In addition to this hotel already being amazing, they have one of the best rooftop bars in all of San Fran. We had happy hour on the most perfect day filled with delicious bites, more cute drinks and breathtaking views. There is typically a line to get up to the rooftop lounge, however if you are staying at the hotel, you get special access where you don't have to wait. Another added bonus to staying here.
Outfit details – Duster: Forever 21 | Tank Top: Old Navy | Jeans: LOFT (old) | Booties: ASOS (similar)
Places to See
One of the great things about San Francisco is that there are so many different neighborhoods that you can visit in one day. We got to go on a food tour where I not only stuffed my face with the most delicious cuisine, but I also learned about the history of the city. The Mission is one area that is known for being the foodie hub. We tried everything from deviled eggs with crispy chicharón on top at Curio, yummy tacos at Bar Pancho, margherita pizza at Mozzeria and ending it with crispy churros at West of Pecos. I'm stuffed just thinking about it. The great thing about the food tour is that you are walking from place to place, taking in the sights and burning off some calories before hitting the next spot.
Sausalito
On the final day, we headed over to Sausalito which is about 30 minutes outside of the city. It is a small town right off the water that has beautiful views. We had brunch at this cute little place called Bar Bocce. The back is completely open and the water is literally steps away. It was a great way to end the trip before heading to the next destination.
Outfit details– Dress: NY Collection | Shoes: Sam Edelman
Thank you Alaska Air for the amazing weekend and I can't wait until the next getaway!
Photographer: Steve Suavemente
*This post is Sponsored by Alaska Air, Proper Hotels & ShopStyle. All opinions are my own