Summer has officially hit in Los Angeles! All of Southern California has been experiencing a massive heat wave with record highs.  With temperatures tipping over 100 degrees at it's peak, my wardrobe has been dictated solely by what is going to keep me cool and comfortable. For me, that means a breezy dressy and no fuss style. There's always a way to remain stylish yet still casual and this plus size Summer dress from City Chic at Macy's helped me to do just that. I've really been loving City Chic's selection of plus size Summer dresses at Macy's wearing this embroidered tunic dress while at Coachella and this lace insert dress in a recent Instagram post. They blend light, airy fabrics with trendy and stylish designs to create the perfect look for these warm months.
As I've mentioned before, Summer is all about prints and tropical themed prints have become all the rave. This exotic garden pattern on this dress fits right in, making it a very on trend piece. And of course like most outfits, I have to add my own flair. That's really what makes fashion fun is being able to style garments in your own way. The first thing that I reached for was this white panama hat. Hats serve two key purposes. First, they block the sun from directly hitting your face. Secondly, they add another style element to your look. Also, an added bones is that they are perfect for when you don't feel like doing your hair (my favorite part). Macy's has a great selection of Summer hats to choose from and I've listed a few of my favorites below.
The next thing was the shoes. These lace up sandals were the perfect accessory to complete this look. I am loving this style of sandal because it's a bit more elevated than just your average. It adds a bit of a dramatic flair while still being very casual and easy to wear. Remember, it's all about having the greatest impact with the least amount of effort.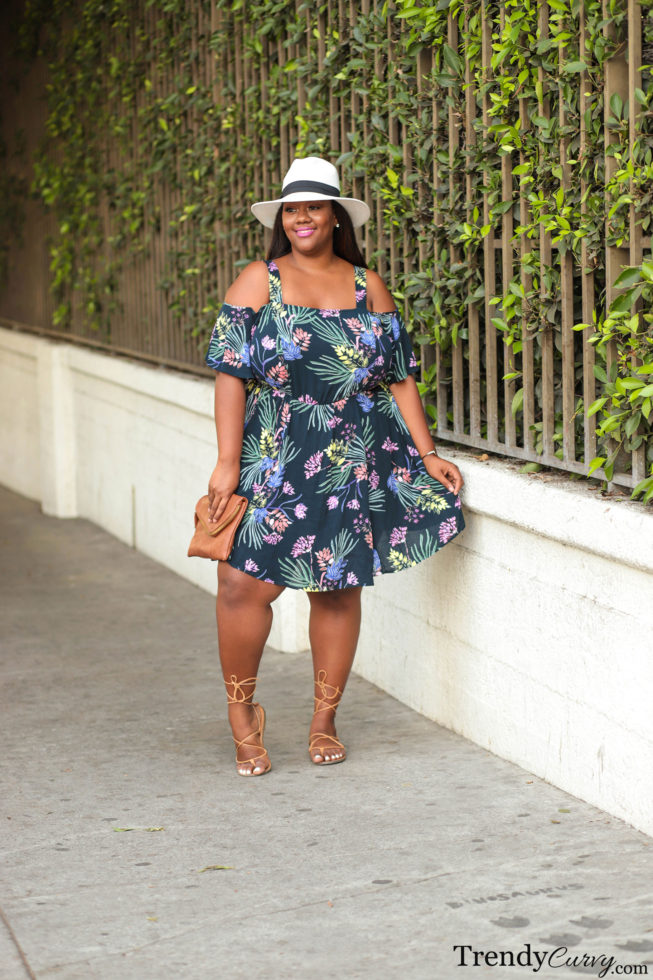 So wherever you are in the world, one thing that should be a staple in your wardrobe is a plus size Summer dress. One that you can just grab and go at any moment's notice and still look put together. That way you can remain cool, confident and of course trendy!
Outfit Details:
Dress: City Chic at Macy's | Hat (old) | Shoes: Urban Outfitters
Photographer: Steve Suavemente
*This post is sponsored by Macy's and ShopStyle. All opinions are my own