So if you've been following along on social media, you know that I have just returned from weekend 1 of Coachella 2018. I am still recovering (both mentally and physically) from such a whirlwind of a weekend but I had to tell you guys all about it. This was my second time attending Coachella so I wasn't a complete newbie but I would say that this year's experience was much different than last. The first difference was that I went VIP versus general admission (moving on up!) which had its pros and cons. Also, I did some things outside of the festival that added to my overall experience. So let's get into it!
P.S. – how beautiful is Palm Springs?!
Outfit details – Top: NY & Company (similar) | Skirt: NY & Company (wearing size XXL) | Shoes: NY & Company (similar)
Day 1
As always let's start out with the outfit. I wore this cute dress from City Chic that I thought was subtle but totally fit the festival vibe. I love the easy, breezy, no spanx-nezzy (not a word but you get the point) nature of the dress. It was comfortable and cute, just like I like it!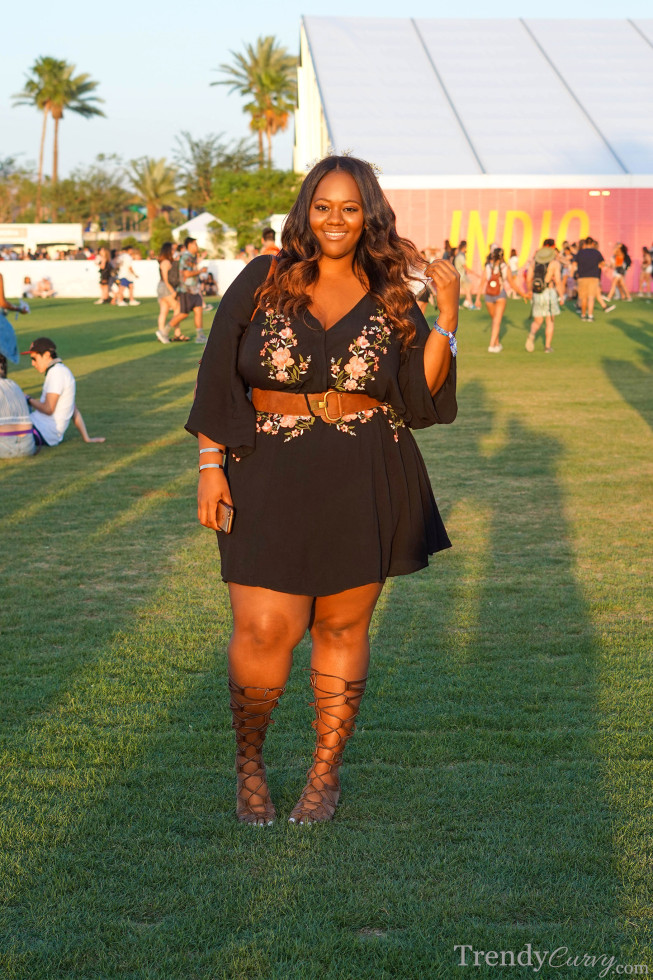 I was fortunate enough to attend Coachella with HP. They host an HP lounge on the Coachella grounds and this year they completely outdid themselves. Aside from the space being air conditioned which was much appreciated, it is a cool, technological marvel in the desert. There were so many activities from designing you own water bottle to creating light art that keep you entertained. Fit with a DJ and an amazing atmosphere, the HP lounge was the place to be in between shows!
The performances were great as always. I saw Vince Staples, Sza and The Weekend (from afar…My IG fam knows what I'm talking about). The one thing that I appreciate about Coachella is that everything starts on time! Give or take a few minutes, most performers go on right when they are supposed to as to not disrupt the schedule.
Click below to continue reading!
Day 2
This was definitely the longest day for me but without a doubt the most fun. What I quickly learned from attending last year's Coachella was that the parties outside of the festival were just as popular as the festival itself. Luckily, I snagged an invite to the McDonald's Pool Party which I had no idea was like thee party to attend. I probably should have known based on the fact that you had to take shuttle to even get to the location but I quickly discovered it once we were dropped off. The party was held at the Bootsy Bellows Estate which is this massive 5 acre mansion. The party took over the whole back yard and was attended by the likes of NFL players, NBA players like Blake Griffin and freaking Kendall Jenner (of whom I didn't even see and only found out afterward that she was there). With endless fresh McDonald's Quarter pounders and fries, refreshing drinks and a performance by Rae Sremmurd, this was one of the highlights of my weekend.
Outfit details – Bodysuit from Stitch Fix | Pants: Torrid
After I left the party I headed straight to the festival so that I could see Beyonce in all her glory. I'm STILL reeling from her performance because it was just that incredible. I have been a Beyonce fan for the longest and this has to be one of her best! I'm sure you've all seen the footage by now so no need to explain further. It was just everything!
Day 3
The last day was marked with more great shows from Tyler the creator, Jorja Smith, Cardi B, Miguel and more! I decided to keep it somewhat casual with an off the shoulder ruffle top and denim skirt. The ruffle top has since sold out but the skirt can be found here.
Cardi pregnant twerking HAHA!
And that's a wrap! Another great festival weekend in the bag. Thanks so much for following along especially if you watch my IG stories because I know that I was posting a lot. So if you rocked with me all weekend, you the real MVP! Until next time!
Photographer: Steve Suavemente