If you have been following my blog for a while now, you know that every year I post a plus size swimsuits look book showcasing some of my favorite styles of the season. Well, it's that time of year again and I'm so excited to share these amazing suits with you. My recent trip to Key West wasn't just about vacationing but it was also to capture this look book in a beautiful and tropical setting. Each year, plus size swimwear gets better and better and I'm always excited to feature new styles and designs. For me in particular, it is difficult finding great fitting swimwear not only because I'm plus size but also because I am busty. Not all plus size suits fit my chest area so I am always delighted when I can find brands that give me the support that I need. So without further adieu, here's my 2018 plus size swimsuits look book!
High Waist Bikinis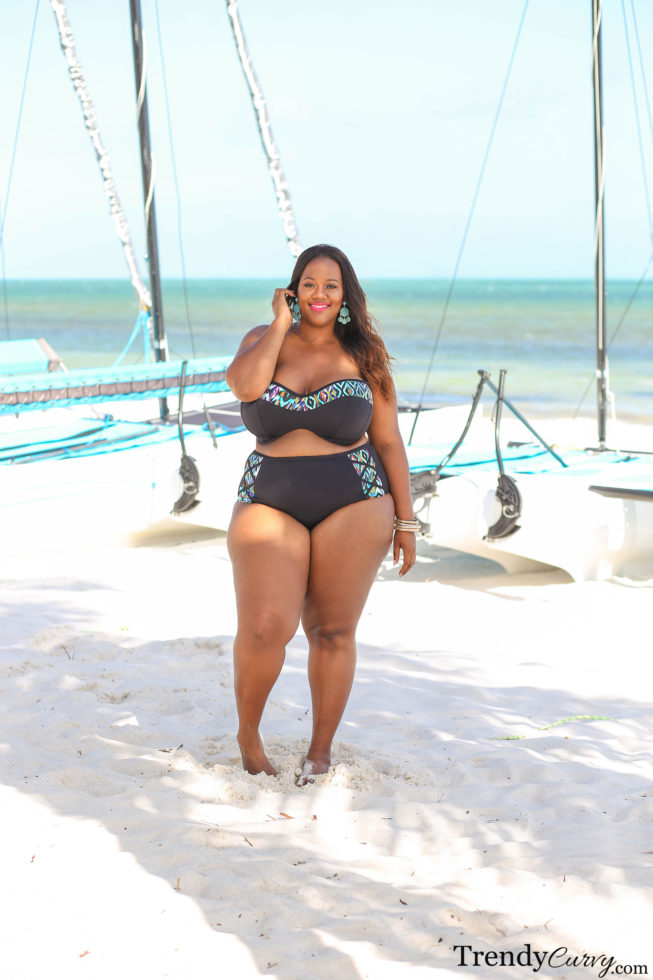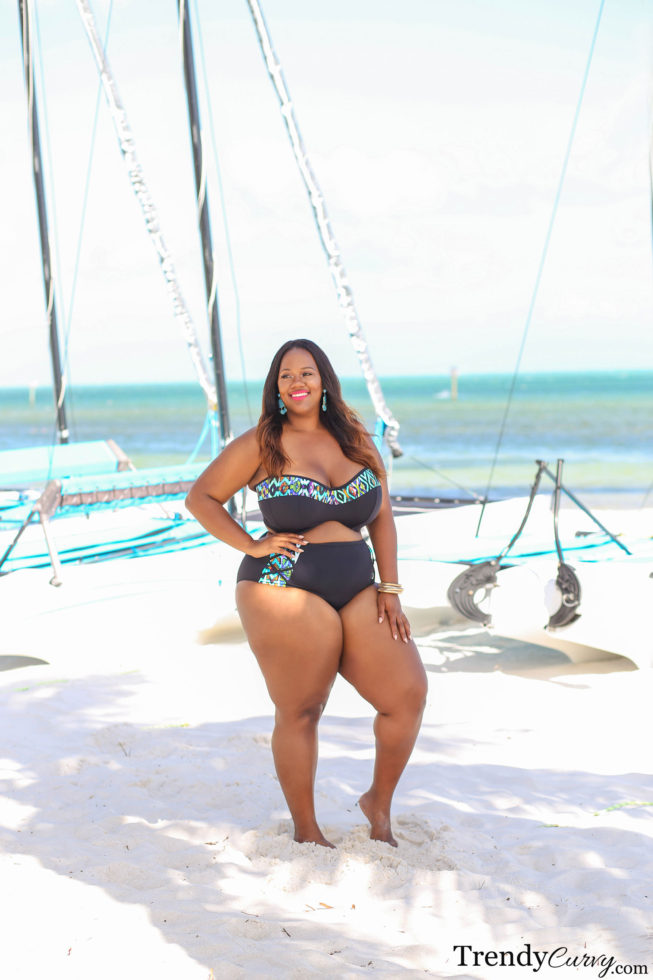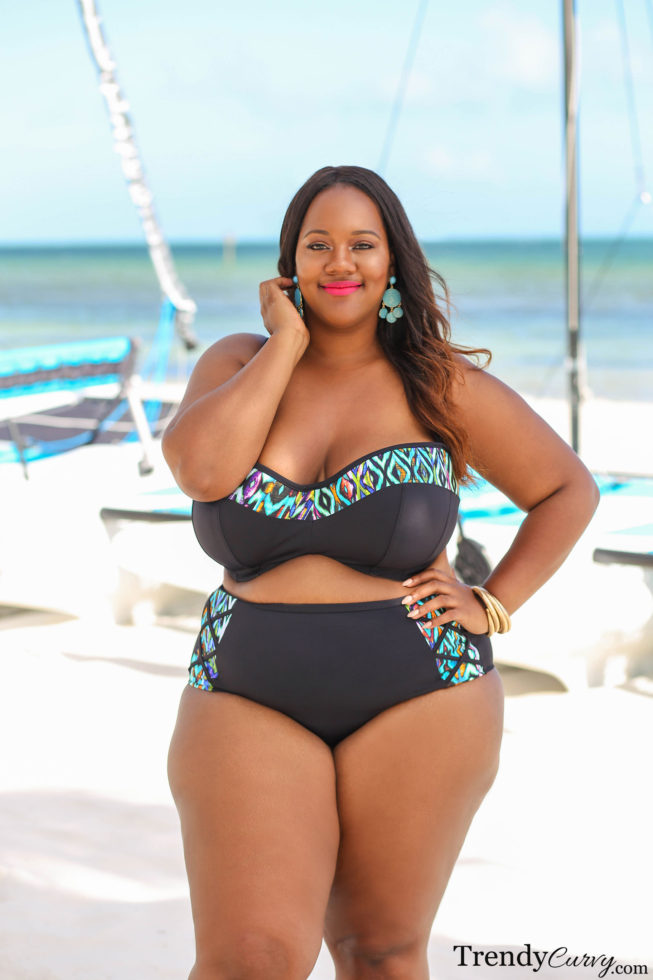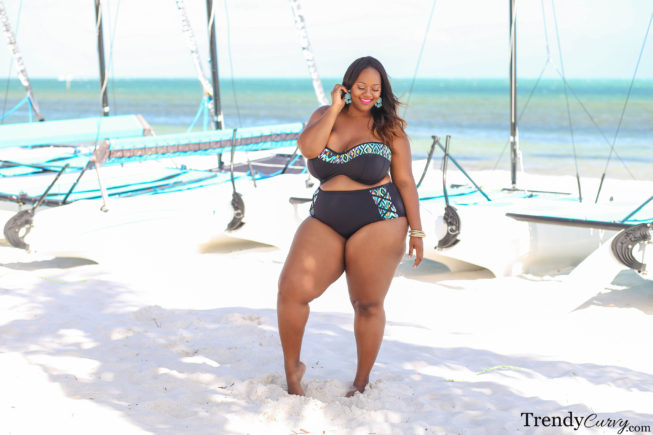 As many of you know, Elomi has quickly become one of my favorite brands for bras so imagine my complete excitement when I found out that they were also making swimwear! This top is one of the best swimwear tops that I have ever owned. It has the same great support as the bras in this cute, geometric design.
Swimwear Fit Notes

Elomi is a UK brand that is sold at various retailers in the US. Their cup sizes range from a DD – HH and this exact top can be found here. (Sizing note: just order whatever your normal bra size is. Once you click on the size, a caption will come up that says whatever size you selected is the equivalent to a different US size but disregard. They just have a different system for sizing. For reference, I wear a 38H in bras and I ordered and am wearing a 38H in this swim top)
Another alternative top can be found here
Bottoms Sizing
Bottoms found here. (Sizing note: The sizes in the drop down menu are UK sizes and that runs 2 sizes larger than US sizing. I'm wearing a US 16 which means that the equivalent to a UK 20. So I would select 20 from the drop down menu. Also note that their sizing is generous. I typically wear a US 18 in bottoms and for swimwear bottoms, often order a US 20. For instance, I wear a US 20 in all Swimsuitsforall bottoms so I would say size down.)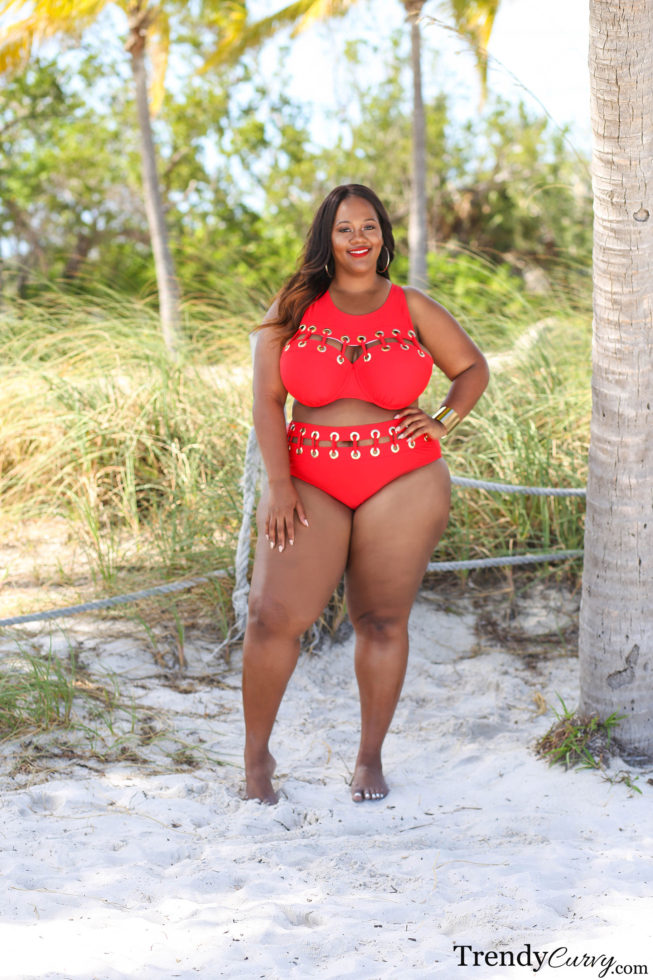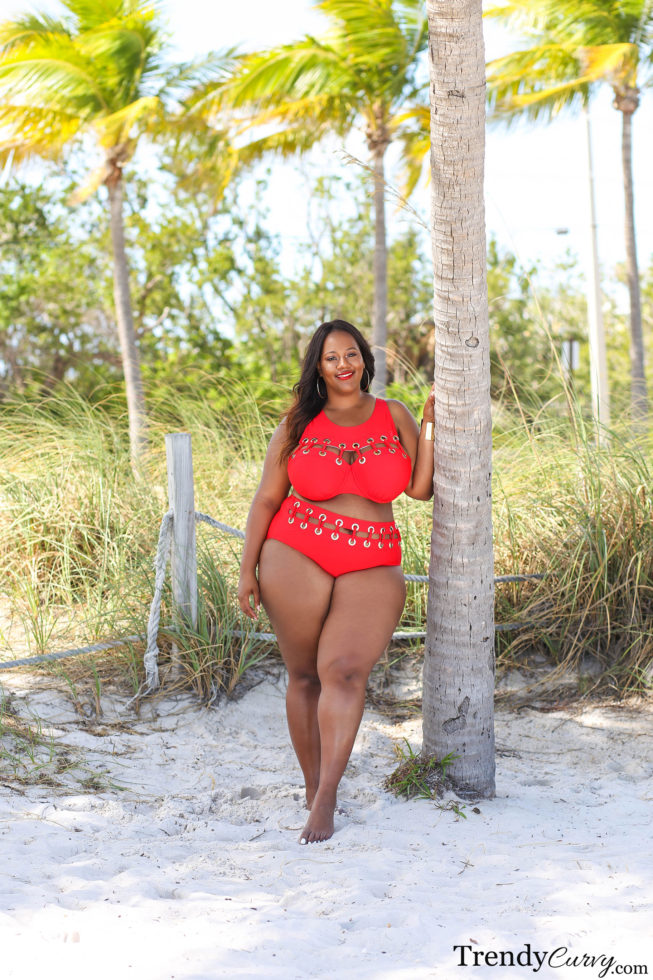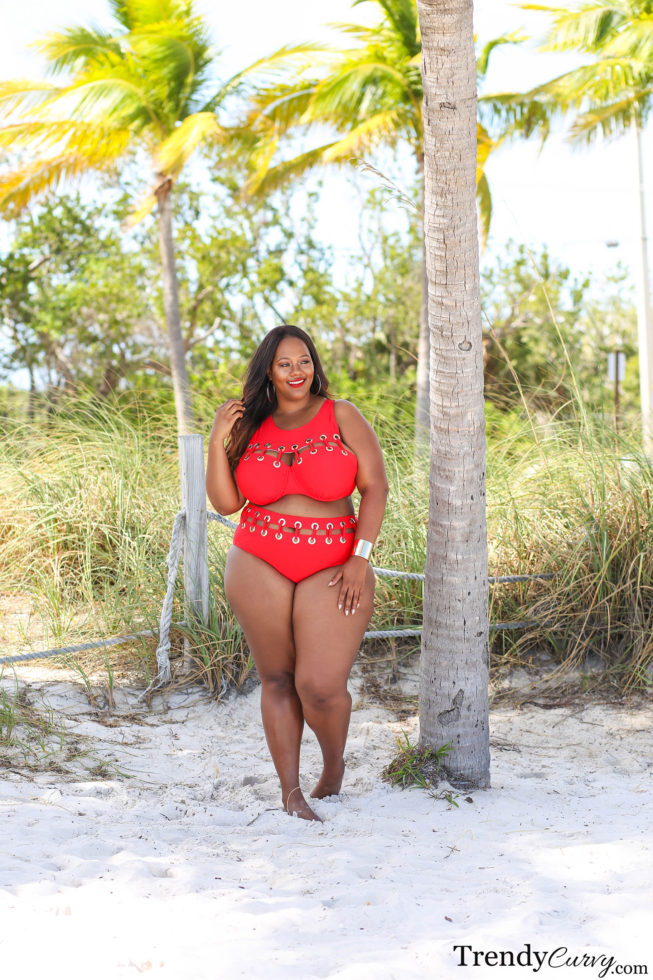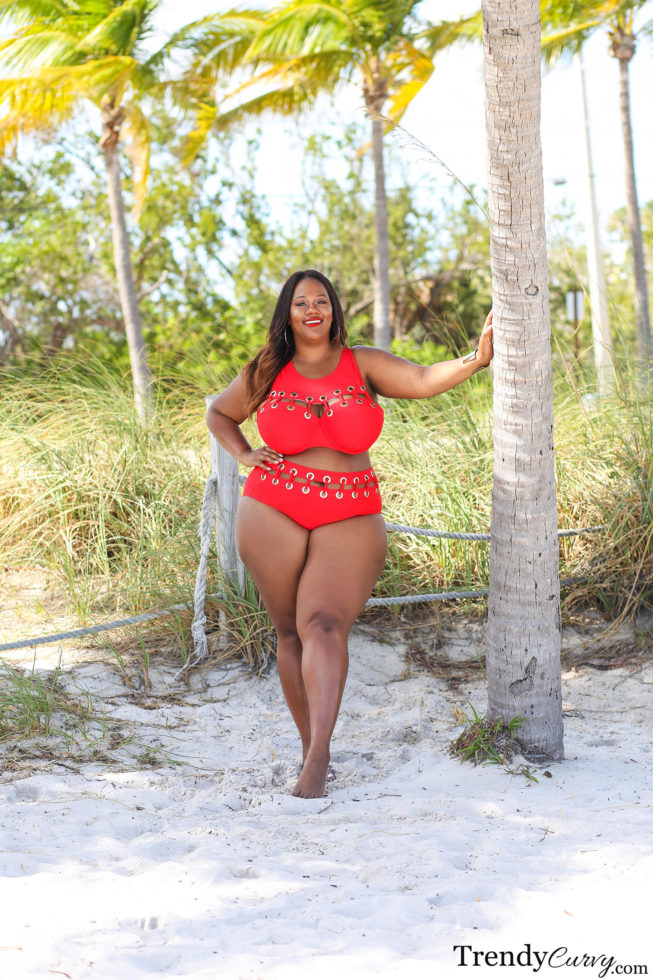 Click "continue reading" to get details on this suit and to see the rest of the plus size swimsuits!
Swimwear details: GabiFresh x Swimsuitsforall Volcano Bikini
Gabi's line at Swimsuitsforall is ALWAYS included in my favorites feature. Year after year she comes with amazing designs and vibrant colors that are totally my style. I feel like this year though, she upped the ante including hardware and embellishments that I absolutely love. This fiery red volcano bikini was an immediate must-have from the first drop. Then I fell in love with the pineapple print of the suit below. Plus, the cup sizes go up to a G/H so they fit the girls nicely!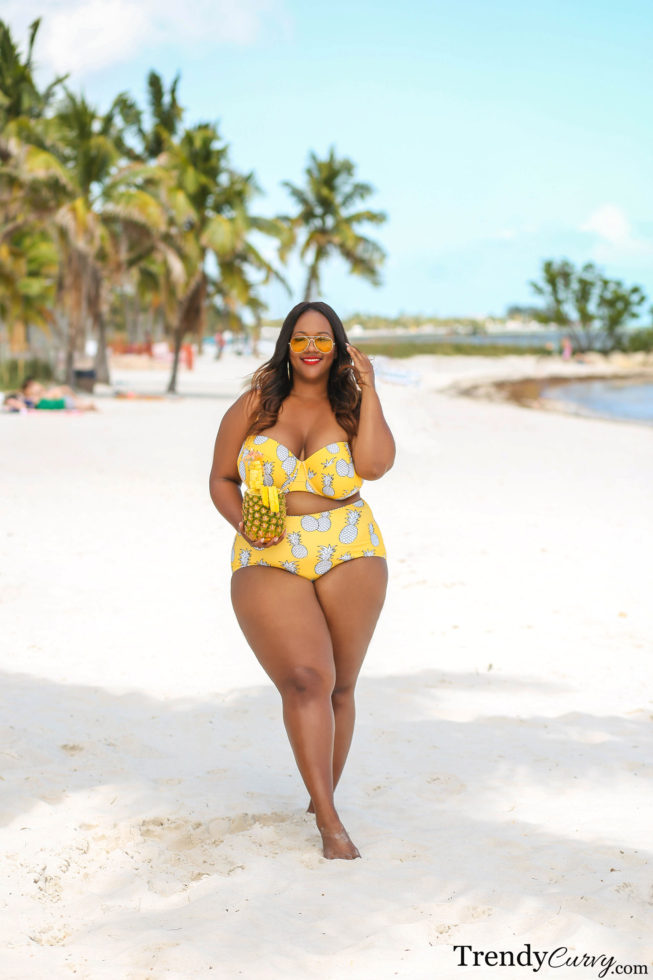 Swimwear details: GabiFresh x Swimsuitsforall Carnival Bikini
Plus Size One Piece Swimsuit
Swimwear details: Bleu by Rod Beattie
This is the only one piece that is included in this year's look book and there are so many things I love about. It may not be as bright and colorful as some of the other suits featured but it has these beautiful deep tones with the purple and the olive. Also, I think that it's important to note that you can wear a one piece and still be just as stylish. The lace up detail in the front and back adds a very chic detail to the suit and shows a little bit of the girls but not too much.
Swimwear details: Top found here | Bottoms found here
And last but certainly not least, this is another Elomi suit in this beautiful purple tone. This swimsuit is certainly different than any of my other suits for several reasons. The first is this high neck halter detail. It's a bandeau top underneath with an overlay of this mesh design. It helps to add a little extra support. Also, these briefs sit lower on my waist than I normally do. I wear high waisted everything because I just feel like those suits flatter my shape the most but I wanted to branch out a bit and try something new. This took me a bit out of my comfort zone but it was definitely for the better.
So that's a wrap on this year's look book! I hope that you enjoyed the plus size swimsuits that I selected and thank you for your continued support year after year!!
xoxo,
Kristine
Photographer: Steve Suavemente
*This post is sponsored by the swimwear companies represented. All opinions are my own