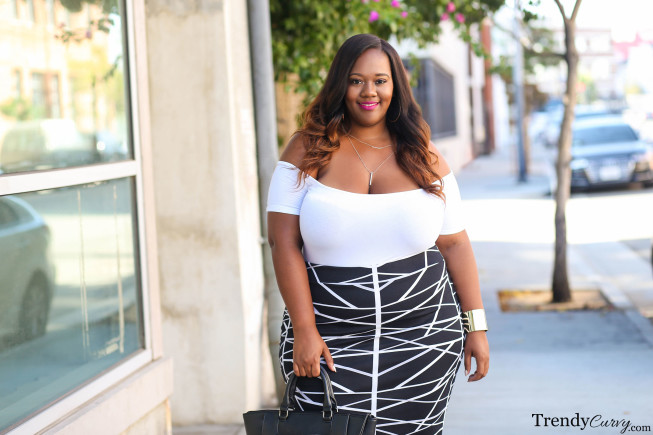 Whether you like it or not, Summer is coming to a close and Fall is inching it's way closer and closer. I personally, am very excited about the upcoming season as Fall is one of my favorite times of the year. I just feels like it is the height of fashion and some of the best garments are designed for the the Fall season.
With fashion always being a season ahead, Fall styles have already reached retail stores. In fact, I even saw thigh high boots the other day! (I'm ready, but not THAT ready). However, the weather is still warm so what's a girl to do when you can only shop Fall items in the Summertime? Well, this is when those transitional pieces become so important because they will take you from season to season.
For instance, I received this amazing black and white pencil skirt from my latest Stitch Fix package. For those that are not familiar with Stitch Fix, here's a brief overview. Stitch Fix is an online styling service where you fill out a profile of information pertaining to your body shape, style preferences, budget, etc. Then, a team of stylists take that information and put together items that they think you would like. When you receive your "fix", you try on the clothes/accessories and you keep what you love and send back what you don't. It's that simple. My stylist was so spot on with this skirt and the other items in my fix because she selected pieces that I could get a lot of wear out of (and y'all know I have no problems wearing something multiple times).
The black and white geometric design is not only fashionable but it also allows for a very versatile palette. With temperatures still high, I paired it with an off the shoulder white bodysuit and bright pink pumps for a pop of color. As time goes on though, I can also pair this skirt with a moto jacket and booties or even a blazer and pumps for the office. This one garment can take you from season to season and occasion to occasion.
So with that said, if you would like to give Stitch Fix a try, you can sign up here. They have certainly have sent me some great pieces that are not readily available to consumers and introduced me to many new brands. Tell em Ms. Kristine sent ya!
Photographer: Steve Suavemente
*This post is sponsored by Stitch Fix. All opinions are my own