If you've been following me on social media, you know that I just recently went to my very first Coachella! I am still recovering from the exhausting yet fun-filled weekend but I wanted to write a quick post about my entire experience. If you are ever thinking about going to Coachella or really any festival for that matter, you should read this post!
First, let's discuss how I got there. Lincoln Motor Company graciously lent me a vehicle so that I could ride to the desert in style. I received a 2017 Lincoln MKZ and let me tell you, this car is the epitome of sleek! With a technology driven intuitive system, luxurious interior with plush seating and a beautifully designed exterior, the only word that comes to mind is impressive. If there was any way to take a trip to my first Coachella, this was it! It definitely set the tone for the weekend.
Outfit details – Top: Boohoo | Skirt: Similar here | Sandals: Steve Madden
So now let's discuss the festival. In a nutshell, I had an absolute blast. I got to see so many acts from Kendrick Lamar to DJ Khaled to Kehlani and more. The best thing about the festival is that there are mainstream artists as well as underground so you get the best of both worlds. I literally almost lost my voice from singing along to some of my favorites songs (yea I'm that person at concerts lol). The entire experience was just one big party.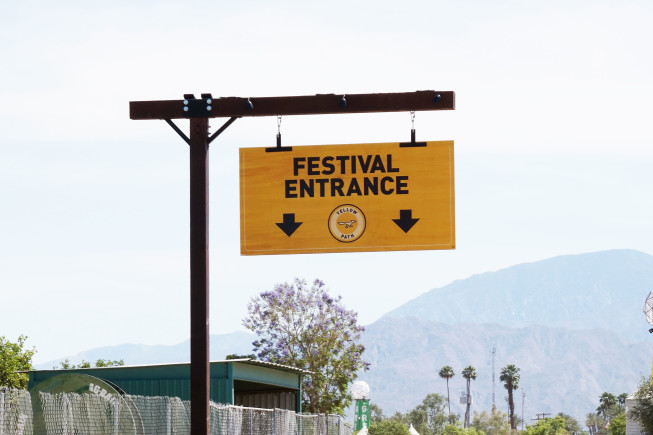 Outfit details – Kimono: Forever 21 | Dress: Similar here | Shoes: Similar here
Now, let's discuss the real. These are not necessarily the "cons" but just the facts that you should know about before going to a festival such as this. Coachella brings in about 100,000 people per weekend. Yes, you heard that right. You don't realize the sheer mass of what that many people looks like until you are in it. Needless to say, it can be overwhelming.
So here are the things to keep in mind:
Personal space does not exist. It's impossible to with that many people. All of the shows are packed even for the smaller artists. You will have people all around you pushing to get through or dancing to the music so be prepared to become very close acquaintances with your neighbors.
2. Water is essential! I know this seems self explanatory but you don't realize just how dehydrated you can become being out in 90+ degree weather for 3 whole days. I don't think that I've ever drunk so much water in such a short amount of time. Oh and bring cash! There were water stations to fill your water bottles for free however they were always packed. I just opted to pay $2 for the bottled water and save myself the wait.
3. Wear comfortable shoes…but know that your feet will still hurt by the end of the day. When I was on my way back to the hotel Saturday night, I realized that I had been standing for nearly 8 hours straight. There were so many shows that I wanted to see that I was literally going from stage to stage, only sparing time to eat and drink water in between. Compound that with endless walking and you will be sore by the end of the day.
4. Remember to go with the flow. This is probably my biggest piece of advice. Know what you signed up for. Normal things that would bother you, you just have to let go. Rude people, drunk obnoxious people, extreme heat, port-o-potties, etc. all just come with the territory. If you have an easy going attitude, you will have a much better experience.
Until next time Coachella!
Photographer: Steve Suavemente