Hey guys! So if you will remember, about 2 weeks ago I started a hair trial using Living Proof products. To refresh your memory, you can check to post out here. I was looking for a solution that would keep my hair shiny and vibrant so that I could stay camera ready for all of my blog pictures. I used the complete system of the Restore line including their all new Restore Perfecting Spray. The Perfecting Spray is to be used after you've washed & conditioned your hair (while still wet) and is the final touch to strengthen, smooth and provide body to your tresses. Just spray on from root to tip and comb through with no tangles!
So I gave it a try and tested these products out for two weeks and I must say that I love it! This is me after I've already used the products a few times so that's why I have a smile on my face. 🙂
The first thing that I noticed was the smell. It smells heavenly! I probably overdid it on my first use because I didn't want the smell to go away (haha).
I use a lot of heat products when I'm styling my hair. Most of the time I do not have the luxury of letting it air dry because I am always in a hurry so I have to blow dry it. Then I follow that up with a hot comb (women of color definitely know this step) to get my roots straight and smooth. Then I style it with either a straightener or a curling iron depending on which way I choose to do my hair. In summary, that's a lot of heat and heat can damage your ends and leave them feeling dry (not cute).
I can honestly say that I saw a difference very early on. When blow drying my hair, it felt so soft already and by the time that I got to curling it, I knew for sure that this product was working. The Restore Perfecting Spray uses "a blend of a cationic detangler and a slip-enhancing polymer" that when combined, provide easier detangling. The formula also includes UV and thermal protection and is sulfate-free, silicone free, oil-free and safe for color and chemically treated hair. I'd say that covers it all!
Camera ready? Approved!
I would highly encourage anyone to give these products a try. You can get the Restore Perfecting Spray here and the full line of Restore products here. It will be in my regular hair care routine and I'm excited to have found new products that work. Thank you Living Proof!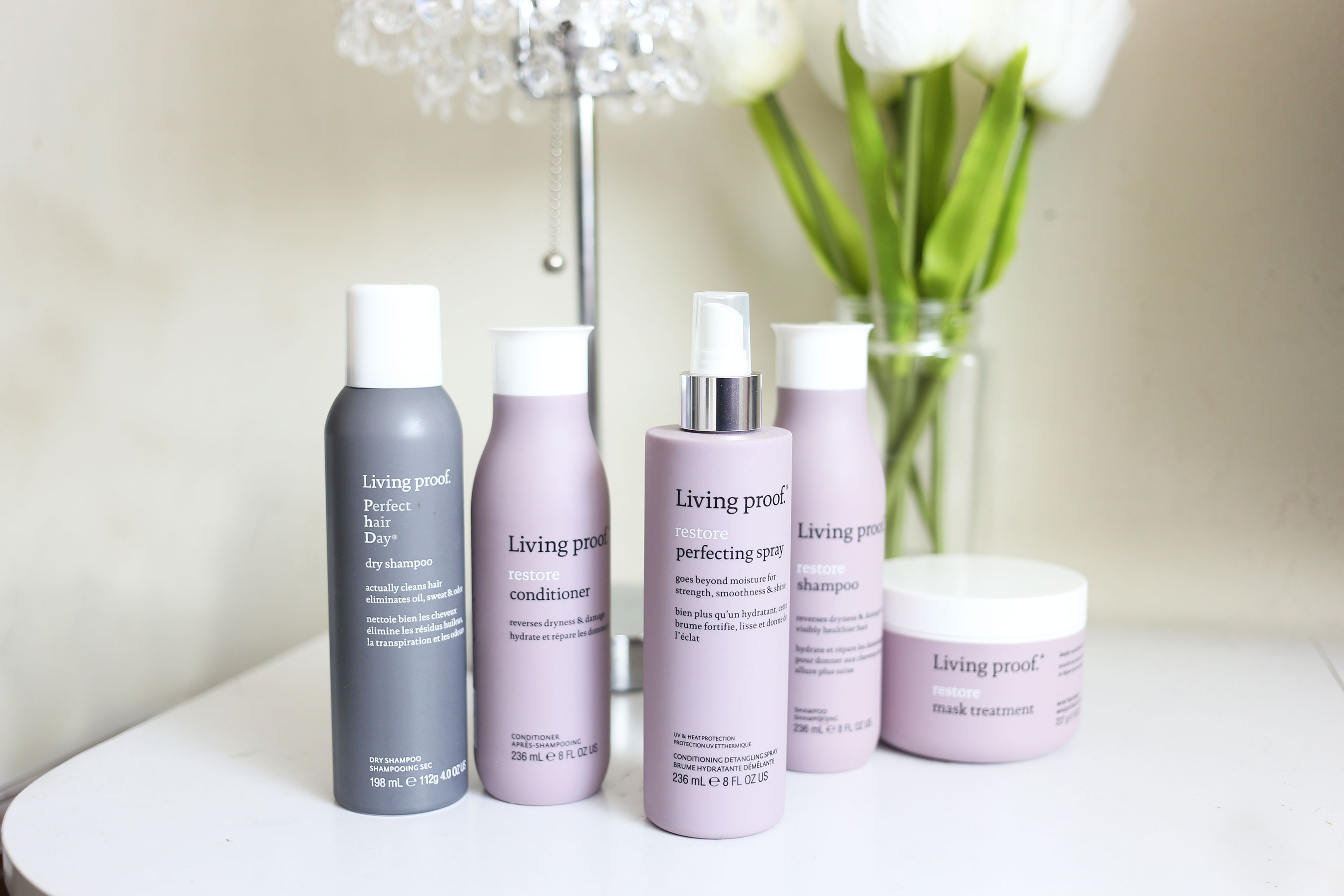 *This post was sponsored by Living Proof. All opinions are my own
*Bloopers*
I'm pretty sure Beyonce was playing in the background and I was using the spray as a microphone…I know I'm not the only one!
My "girl you need to try this" face