This post is sponsored by HSN & ShopStyle.
If you are anything like me, you've been getting an itch to travel and get away. Looking at the inside of your home day-in and day-out can become overwhelming after a while. And although things are not quite back to normal just yet, you can still have a nice, relaxing weekend not too far from home. Staycations offer the perfect solution to have a change of scenery, while not taking on full travel plans. So here are some key essentials from HSN to be able to get away, hassle-free.
Essentials Beauty Case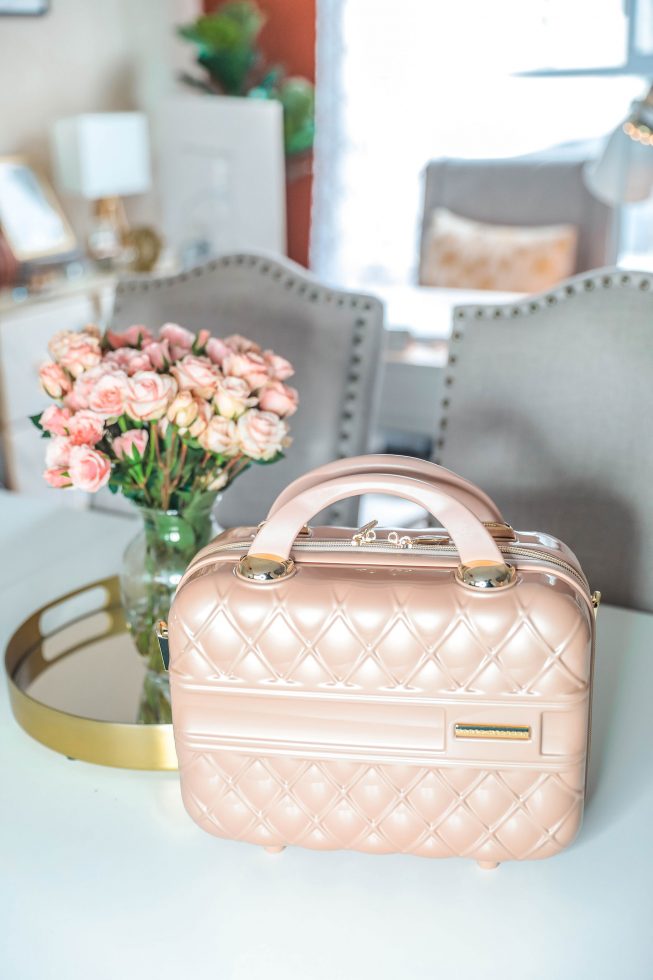 I don't know about you, but the worst part about traveling to me is packing. So, if I'm not going far away, I want to keep that process as easy and simple as possible. That's why this Marcy McKenna Beauty Case is going to be your new go-to bag. It's a compact, hard case that is not only stylish, but also really functional. It holds so many beauty essentials and toiletries from makeup, to skincare and makeup wipes, hair products and more. You can keep everything organized and in one place.
Stylish & Convenient Travel
When you do decide to take a full vacation, you can take your beauty case in addition to this matching 30" Jet Setter Wheeled Luggage. The best part? The beauty case has a strap in the back that can slip over the handle of the luggage. It makes getting to-and-from much easier and convenient. While you're at it, you can add these packing cubes as well. I swear by cubes and honestly don't know how I traveled without them.
Self-Care Needs
It's safe to say that the need to get away is synonymous with needing a bit of a reset. What better way to do that than with exercising some self-care? While you are packing, be sure to include things like a charcoal mask and body butter. Experiment with beauty products that you either never have time for, or just are new to your routine. For instance, have you ever tried a face massage tool? This one is a celebrity-famous uplift beauty roller that comes in a sleek travel case.
Lastly, self-care goes hand-in-hand with comfort. I love items that I can throw on and still look stylish. These slouchy knit tunics can be worn off the shoulder with a tank top underneath for a layered look and leggings.
One of the best parts about shopping with HSN is that they offer FlexPay! You can get all of these amazing items today and pay it off in easy, interest-free installments!
Happy staycation!