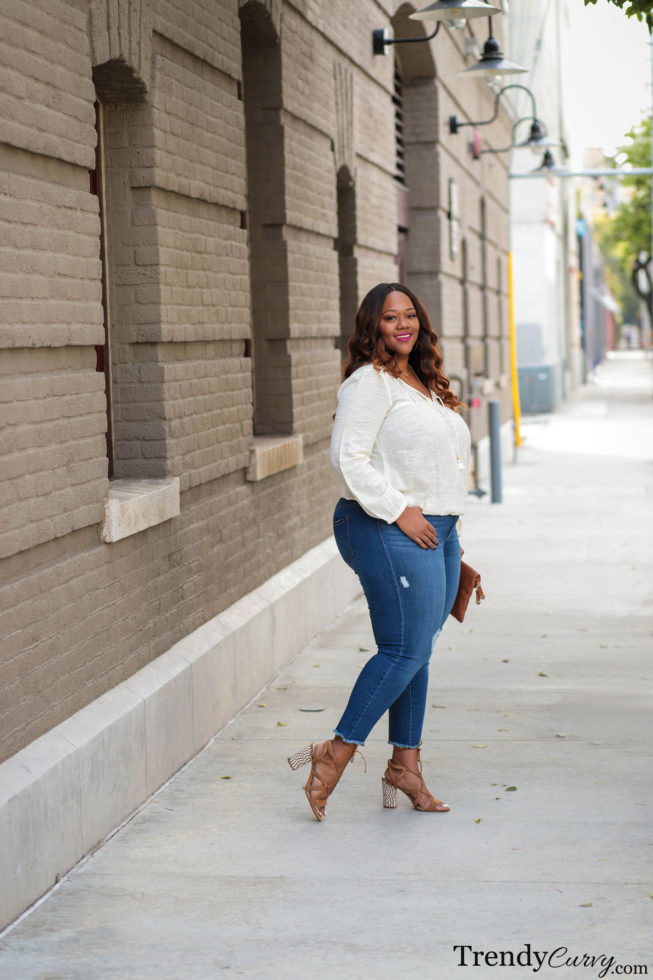 I love being able to share with you all new brands and new places to shop. I especially enjoy when these brands are super accessible and affordable. That is definitely the case in this situation. I am rocking the newest collection from the one and only Sofia Vergara called Sofia Jeans available at Walmart! Yes, you read that correctly. Sofia has partnered with the mega-brand to launch on-trend denim and feminine tops at prices ranging from only $14-$40. Carrying sizes from a 0-20, this line includes us girl with curves. It is dedicated to the "confident women that know that sexy isn't one size fits all". Yes Sofia!
Sofia Jeans Review
I have to admit, that I was a little skeptical about the denim in particular. With a price point of just $24.50, I just didn't know what to expect when it came to quality. However, I was pleasantly surprised! These mid rise jeans are well made, have great style and fit my body. The slight distressing give the denim a bit of edge and make them more fashion forward. I also love where the hem hits me. I prefer my denim to come above my ankle so that I can showcase whatever shoe I have on. This pair did just that and the raw edge added a simple, yet chic touch.
Now, I will mention that this particular pair isn't true to size on me. I am typically a size 18 and had to size up to a 20, which puts me at the top of the range. It doesn't have as much stretch as the jeans that I'm used to so that may account for the increased size. As you can see though, once I got in my correct size, they fit me nicely.
This top is also from the line as I wanted to try multiple items. Although simple, I love this peasant blouse. It's one of those casual, easy to wear type of styles that you can pair with just about anything. I'm always on the go so I cherish tops that don't require much work. This top retails for $19.50 so altogether, you can get both items for less than $50. You cannot beat that! You can shop her other tops here as well including some great graphic tees. I picked up this t-shirt as well because I loved the message.
Be sure to check out the line on Walmart.com. It has been so popular that some of the items have sold out. No need to worry though, new Summer items will be launching in April!
Outfit details:
Top & Jeans: Sofia Jeans by Sofia Vergara
Photographer: Steve Suavemente
*This post is sponsored by Walmart. All opinions are my own