Outfit details: Top and Pants from Astra Signature
So I'm finally getting around to posting about my recent trip to Maui. It was my first time in Hawaii and it was nothing short of amazing. Maui is an absolute dream and seven days wasn't enough time to explore all of the beauty of this island. Before we get into the details, I have to give a huge thank you to Alaska Airlines for the flight. Alaska Airlines has become one my favorite airlines to travel seeing as though they go to all of my favorite destinations including San Francisco, New York and my new favorite, Maui. Their service, hospitality and ease of booking make traveling a lot less stressful.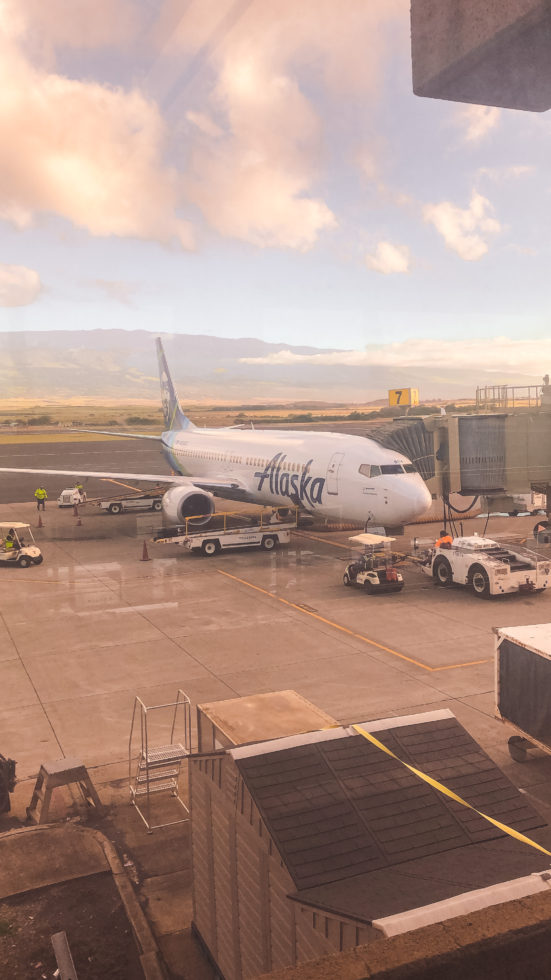 Where I stayed: Wailea
I am the hotel research queen (self proclaimed of course). I don't splurge on much but when it comes to vacations and getaways, I like to stay where I can get a bit of luxury and an experience all in one. I look at getting out of town as an escape/reset from everyday life so the hotels need to provide me with just that. With that being said, it seemed like there were two main tourist areas on the island. One is Wailea and the other Lahaina. I couldn't make up my mind as to which location to stay at, so I split the trip in half so that I could experience both. One resort stood out the most to me for the first half and that was the Wailea Beach Resort.
As soon as you step foot on this property, you are instantly put into vacation mode. You are greeted with smiling faces that offer you leis and guava juice while you check in. The open air lobby is absolutely STUNNING and perfectly captures the Hawaiian landscape.

The Room & Amenities
The rooms are equally as beautiful. I opted for an ocean view room because all I wanted to look at all day was the ocean while I was there. The room we received was on the ground level so it included an extended lanai and a great view of the Serenity pool.
The Serenity pool is a breathtaking adults-only infinity pool that is the epitome of relaxation. You have a front row seat to the ocean and it has the most beautiful sunsets!
Click "Continue Reading" to see more of my trip!
Wailea Activities
I highly suggest renting a car so that you can roam around the island. Our first stop was a place called Iao Valley. It was so lush & green with waterfalls and streams throughout. It's a bit of a climb to get to the top but so worth the view.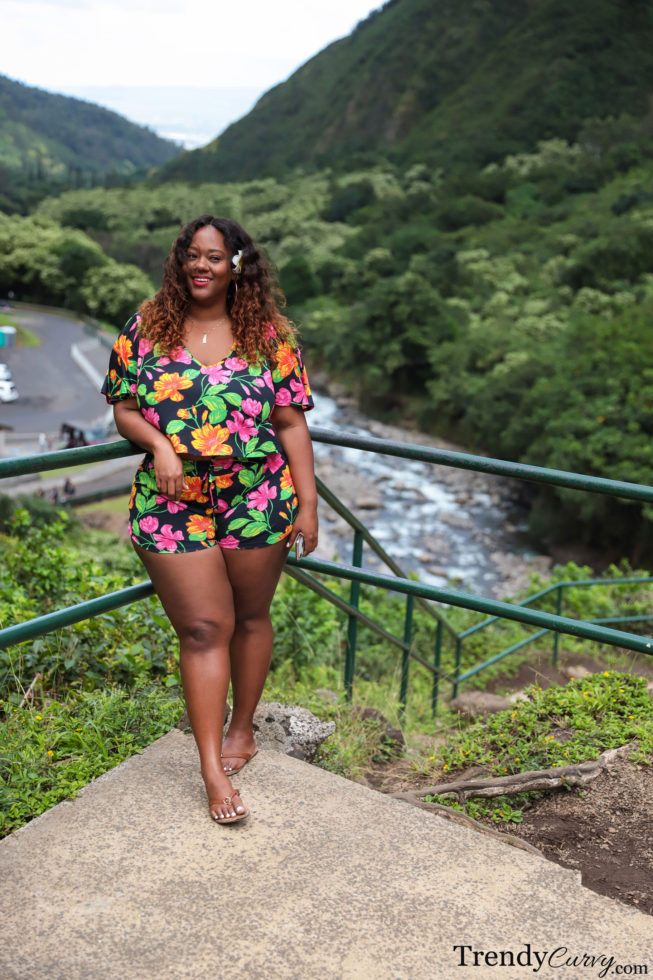 Outfit details – Top: ASOS | Shorts: ASOS
I also planned a sunset boat cruise with the Pride of Maui. It included open bar, appetizers and dinner, as well as a show. It was a perfect way to watch the beautiful sunset right on the water.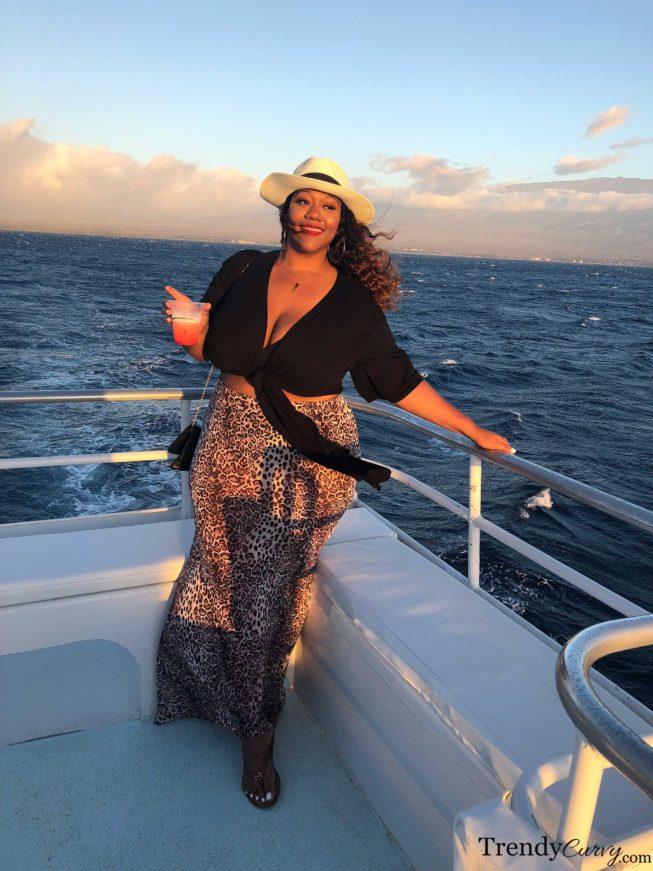 Outfit details – Top: SwimsuitsForAll | Skirt: Pretty Little Thing | Hat: Amazon
Where I Stayed: Lahaina
The distance from Wailea to Lahaina is about 45 minutes. Like everything else in Maui, it's a gorgeous drive along the coast. We ended up staying at the Hyatt Regency Maui Resort & Spa in one of their more remodeled suites. If you are on a bit of a budget, you can still get a great ocean view in one of their standard rooms for a more economical price. Everything is Hawaii is quite pricey but if you can splurge on an ocean front, you won't be disappointed.
Lahaina Activities
I could not go to Hawaii and not attend an authentic luau. Although the Hyatt Regency offered a luau of their own, I opted for The Old Lahaina Luau due to the rave reviews. It's situated right on the water and has a beautiful setting. It's open bar, all-you-can-eat, and has an amazing show that really captures the history and heritage of Hawaii. There is not a bad seat in the house due to the set up but I got the traditional seating which is right in the front sitting on cushions. The time in which you purchase your ticket determines your seating placement whether you sit traditionally or not so be sure to book early.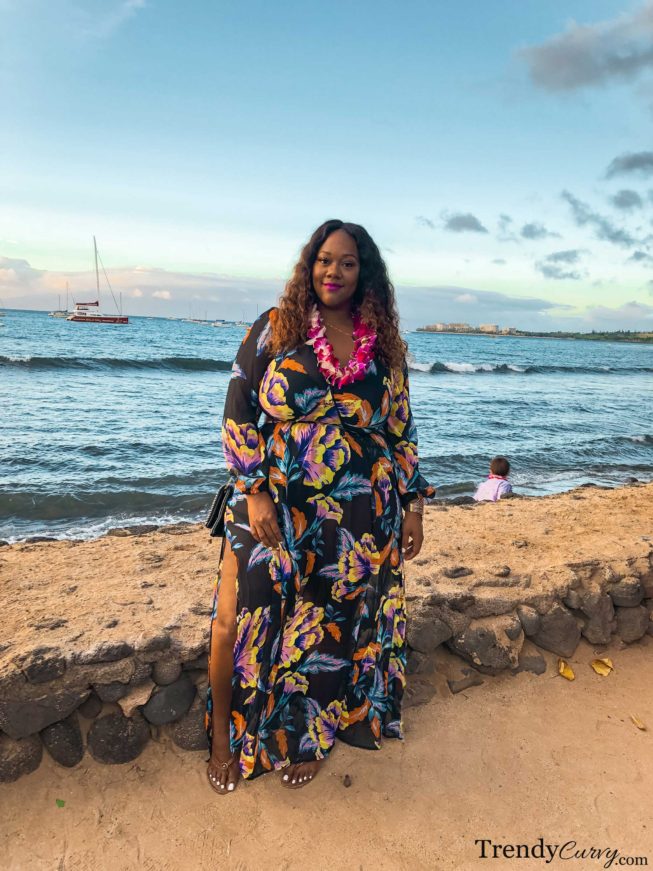 Outfit details – Dress: ASOS
The Road to Hana
Once you start doing research on "must-do" things in Maui, you will undoubtedly discover that the Road to Hana is at the top of many lists.  It is an ultra-scenic drive from pretty much one side of the island to the other. The drive takes about 5 hours with no stops one way so if you plan to do it, you should leave early in the morning and be prepared for an all day adventure. The roads are very windy and narrow with many bridges only allowing one car at a time in either direction. You really cannot drive faster than about 25-30 mph because of how many twists and turns there are. So with that said, you do not want to be driving it at night.
I was not fond of waking up at the crack of dawn to make the full trip so we planned to drive about half way to the Black Sand Beach and turn back around. This was one of my favorite parts of the trip. I did not think that I would enjoy it as much as I did but the scenery is just unreal! The pictures don't even do it justice. You feel as though you are in the middle of a scene of Jurassic Park or Avatar. It has just so much untouched and vast greenery, waterfalls and roadside cliffs. I highly recommend even doing some of the drive.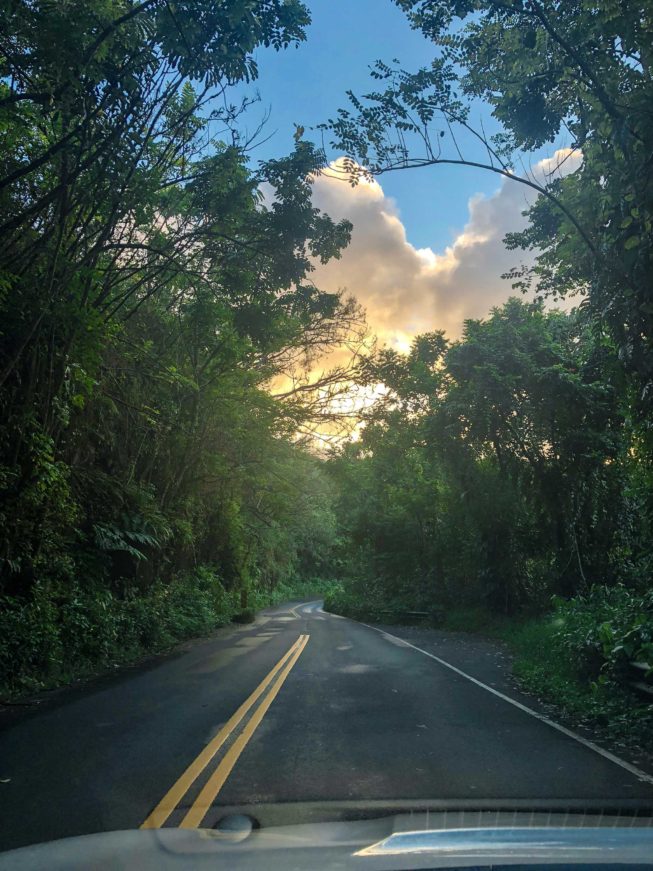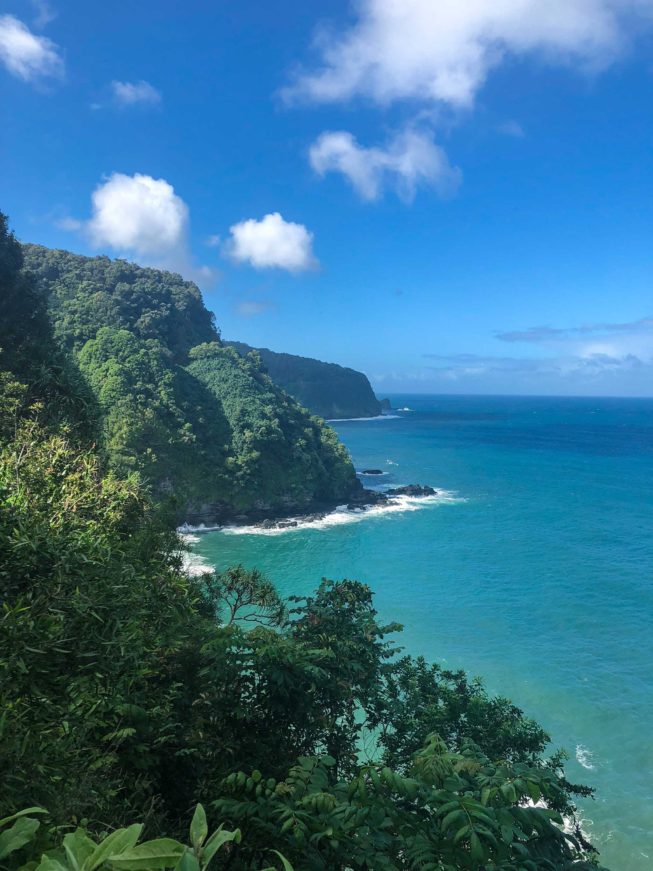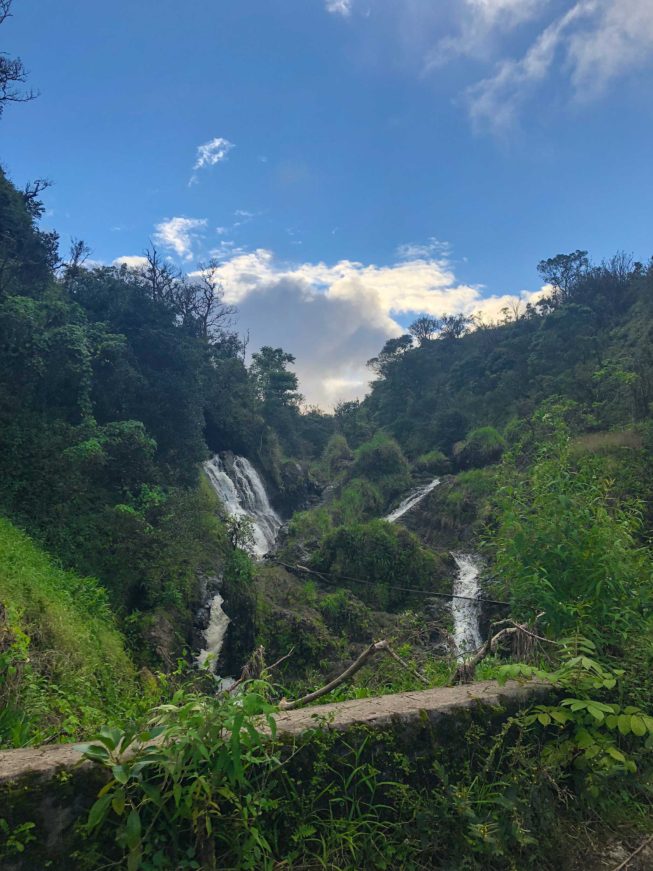 Finally, the Black Sand Beach was unlike anything that I've ever seen before. The sand is said to turn black when fragments of lava and other volcanic minerals are broken down by the ocean. It's a great place to hang out and take some pictures before getting back on the road.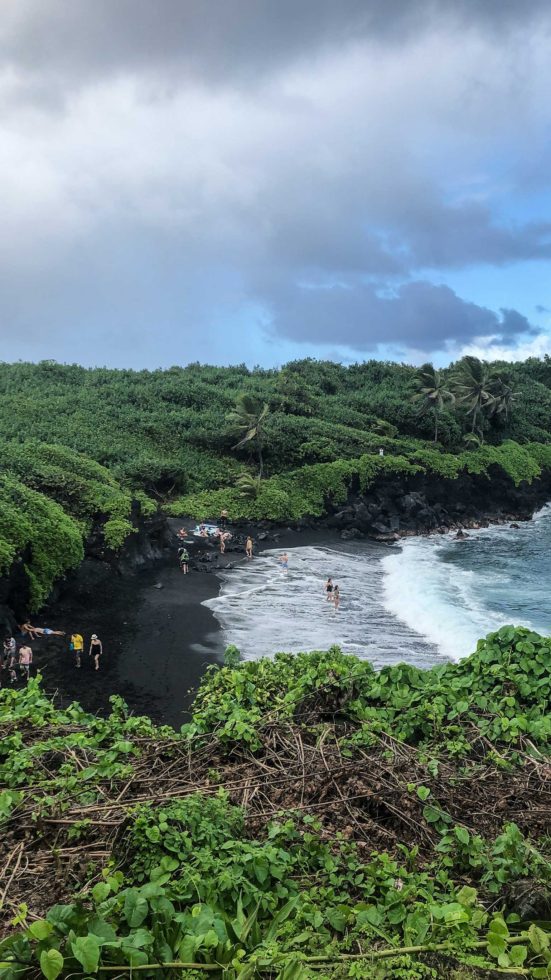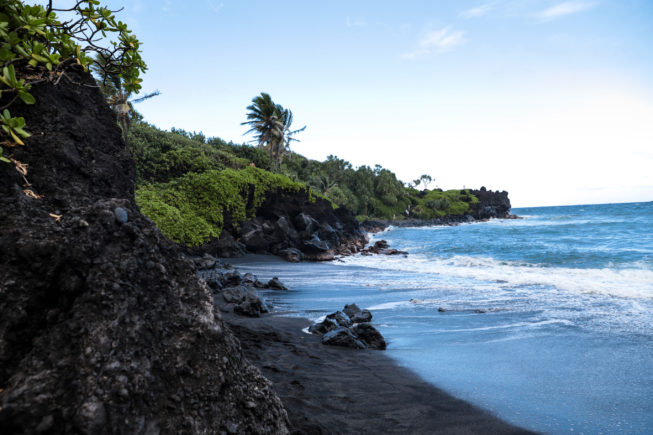 Swimsuit: Fashion Nova
I hope that you enjoyed following along on my trip and thanks for reading!

Mahalo
Photographer: Steve Suavemente