It's my five year blog anniversary and I am so overwhelmed with emotion and gratitude. First and foremost, I want to thank every single person that has been following me along this journey. Every like, every comment and every email has continued to fuel my passion and make me feel as though I truly have a purpose in this space. Those that have been following me for a while know my story. I started TrendyCurvy purely as a hobby with no real expectations of where it would go. I just knew that I had a unique aesthetic and I wanted to show that plus size women could be just as stylish as anyone else. Now, blogging has become my full time job and I am more fulfilled with my life than ever. None of that would be possible without the love and support of my online family so I cannot thank you enough!
The Current State of Plus Size Fashion
Since five years is quite a milestone, I wanted to do something a little different. While my platform is founded on inspiring women, my hope is to also be a voice to move the fashion industry forward. That means talking to brands behind the scenes about more size diversity, expansion of trendy styles and overall plus size representation. While we have had some significant wins, I find myself still dissatisfied with the progression. For instance, I'm wearing this gorgeous designer dress from Marchesa thanks to my friends at 11 Honore. As a plus size woman, that's a huge deal! Luxury clothing was something that I never thought would come in my size. Yet, as I stand on Rodeo drive, the home of so many luxury storefronts, I cannot walk into one of them and purchase clothing for my body type. In fact, women above a size 14 cannot find many stores in their local malls that carry their sizes. Let's delve into this a little further.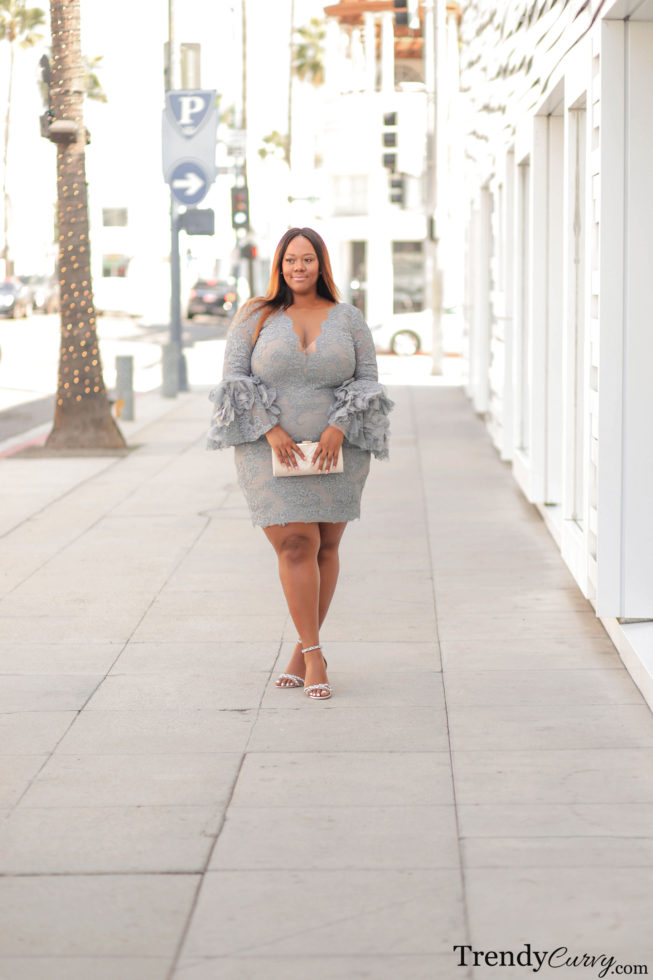 The Underrepresented Majority
We all know the statistics. An estimated 67% of women in the U.S. wear above a size 14, which is the far majority. Yet clothing options, especially in store, are severely limited. I live in Los Angeles near one of the largest malls in the United States. It has over 200 stores including Nordstrom, Macy's and JCPenney. Of those stores, about 50 carry women's clothing. Aside from the department stores, only four have clothing available above a size 14. How do I know that? Well, those four stores are ones that I knew for sure carried my size. Two of them are plus size retailers, Torrid & Lane Bryant, and the others are Forever 21 and now Express carrying up to a size 18. I researched the other women's clothing stores to see if they had plus sizes online, and then I called the ones that did to see if they had them in store. An additional 15 brands indeed have plus sizes yet none of them are available in store. I think you're starting to get the picture.
Progression, Not Just Progress
I know that nothing happens overnight and I'm not going to pretend that I know the ins and outs of the fashion industry. However, we are in the midst of a plus size/body positive movement. Collectively, we as consumers have made it clear that we want representation. From impactful conferences such as CurvyCon, to the numerous influencers that have spoken out about the issue, we are not letting up. And like I mentioned, we have had some major wins. With plus size models walking the runways at New York Fashion Week and Tess Holliday gracing the cover of Cosmopolitan UK, these are moments that should not be taken lightly. Yet in still, the point of all of this is to make fashion more accessible to women of all shapes and sizes. Have brands really done that? Diversity & inclusion is not a box that you can just check off, but it is a commitment to that very principal. So while I am happy about the progress, we have much left to do to bridge the gap.
Thank you again for these past five years and looking forward to the road ahead.
xoxo,
Kristine
Also, a big thank you to my love and photographer, Steve Suavemente for capturing me for every single post these past 5 years. Love you!