I recently went on vacation to beautiful Cabo, Mexico and had the most amazing time. I had never been to Cabo and didn't realize how close it was to California, particularly Los Angeles. It is only a 2 hour plane ride from LAX! So I thought to myself, "in the same amount of time that it takes to drive to San Diego, I could be in a blissful paradise?" Sign me up!
The whole reason for the trip was to celebrate my mother's 60th birthday (of whom no one believes that she's 60 but I promise she is). My family and I had not taken a vacation together in quite some time so this seemed like the perfect opportunity to do so. We were just missing my older brother who just had a baby girl a few months ago and had to work (oh responsibilities). I, like always, took the lead on researching places to stay and I found the perfect resort for us. Continue reading below to hear all the details about our trip.
Here's a picture of my mother (middle), sister (right) and I during one of the many beautiful sunsets. See below for our outfit details.
Green Dress (old). Another option here | Purple Ruffle Top, Skirt (old) | Red Floral Dress (from ASOS but sold out). Similar here | Hat: JcPenney (similar)
I'm so glad that I get to inherit these genes from my mom!
Cabo San Lucas Hotels

There are so many resorts in Cabo, Mexico that it can become overwhelming trying to find the right one for you. I felt like I was searching for weeks trying to figure out what area to stay in, the amenities, the rooms, the activities, etc. but I was determined.
One thing that helped to narrow down my search is that we wanted to stay at an all-inclusive. My parents had never experienced the all-inclusive life and my sister and I just knew that they would love it as much as we did our first time. There were many viable candidates that were not all-inclusive though that were so tempting, namely a resort called Cabo Azul. The room rates are very economical and the resort is so luxurious. We debated which route to take and ultimately we felt that we should stick with our first instinct which was an all-inclusive and I'm so glad that we did.
Paradisus Los Cabos
So the resort that we chose is called the Paradisus Los Cabos. The pictures really do not do this place justice. It is absolutely breathtaking from the minute you pull up to the open air lobby. Paradisus Los Cabos is in the San Jose Del Cabo area. There are two main towns that you can stay in: San Jose Del Cabo & Cabo San Lucas. From what I gathered in my research, Cabo San Lucas is where all the action is. The bars, clubs, restaurants, etc. are all in that area and closer to the famous Arch. I also found that the hotels are a bit smaller and not as grand (size wise) as I would have liked. San Jose del Cabo is further up the coast but only about 15-20 away from Cabo, Mexico and seemed to fit our vibe of just wanting to relax and be pampered.
Hotel Accommodations
We opted to splurge a bit to get what is called Royal Service. There are several amenities included in this. The first is that you have rooms in the adults only section of the resort along with an adults only pool and a restaurant that is exclusively for Royal Service guests. The rooms are the closest to the beach and have the best views. Plus the Royal Service rooms are the only ones with swim up pools which was my favorite part. It also comes with an on-call butler 24 hours a day that can make dinner reservations for you, organize activities and excursions and in our case help to plan special occasions like birthdays. They give you a "butler phone" and everything and they answer every time.
Ultimate relaxation to me means not having to think about anything. I never had to figure out what to eat or where to eat, never had to take out my wallet (only to give a tip if I was so compelled to do so) and just never had to lift a finger for anything. Our butler even brought meals and drinks to our swim up pool so that we wouldn't have to get out for the whole day. Talk about being spoiled!
Click "Continue Reading" to see the rooms and to hear more about my trip!
The rooms are nice and plush with simple decor but a very well done layout. I especially loved the huge bathtub inside.
Of course my wardrobe was all about color and comfort (C&C). That's the mantra whenever I'm on vacation.
What I Wore
Details – Top: ASOS (old) | Skirt: NY & Company | Hat: JcPenney (similar) | Sandals: NY & Company
Outfit details – Top: NY & Company (similar) | Skirt: NY & Company
Outfit details – Sunglasses: Urban Outfitters | Earrings: NY & Company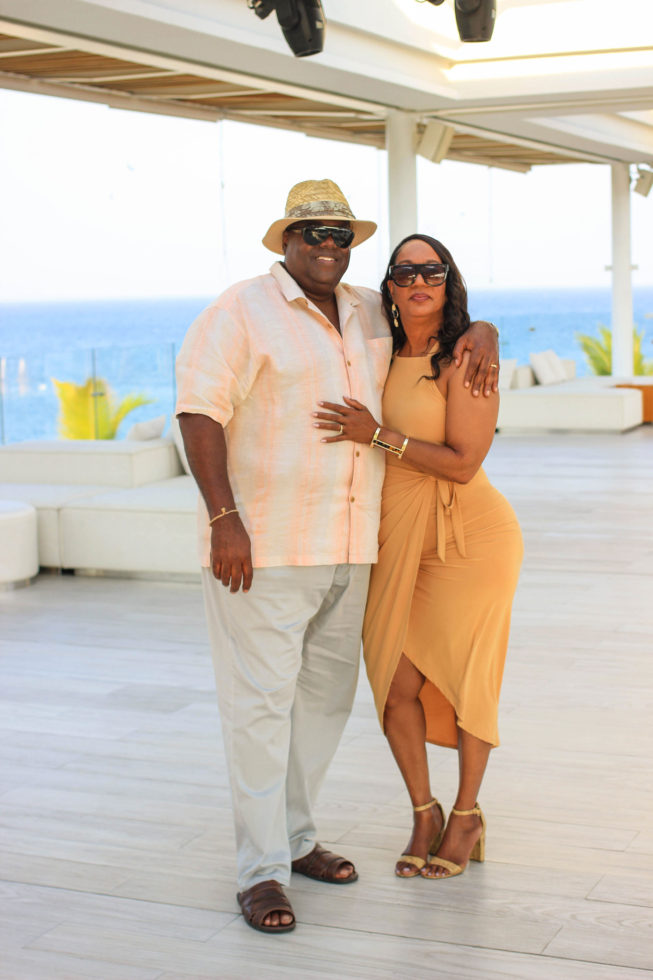 How cute are my parents?!
Oh, and I can't forget about the spa! Royal Service guests can also enjoy the spa at no extra charge. You do have to pay for services such as a massage, facial, etc. but you can enjoy the serenity pool, sauna and just the overall spa experience.
So needless to say we had an absolutely amazing vacation. I would highly recommend visiting Cabo, Mexico and would definitely suggest Paradisus Los Cabos as your resort. Until next time!