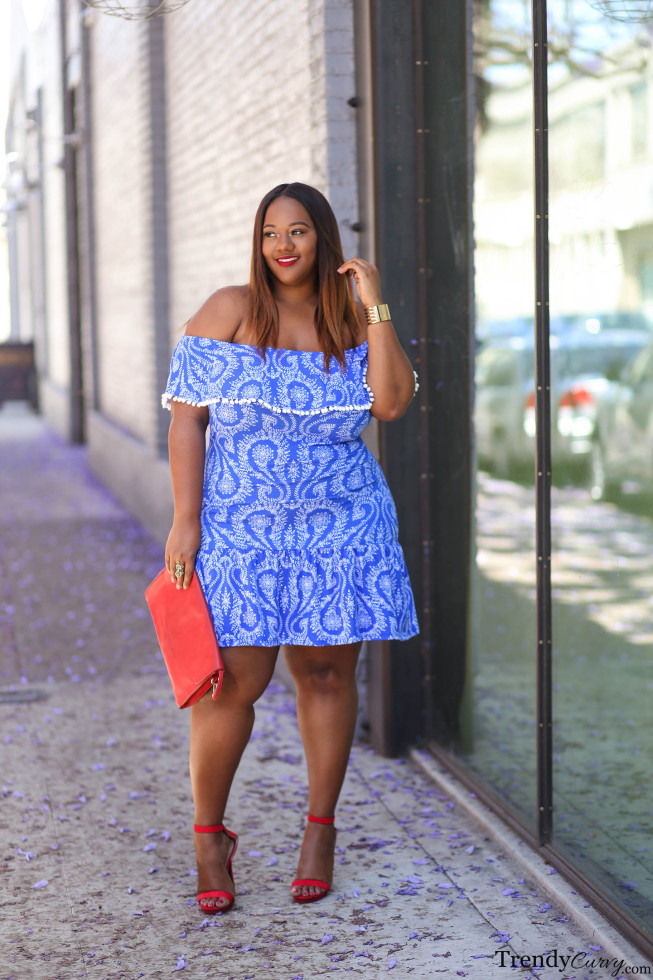 How adorable is this dress?! There are so many things that I love about this little printed number so let's go down the list. First, let's talk about how shoulders are having a serious moment! I personally have been wearing off-the-shoulder garments nonstop lately. The ruffled neck detail is such a popular trend right now and I am taking full advantage of it. There is something so feminine and fun about a little shoulder action, and it is the perfect amount of skin for the season.
Secondly, this blue and white paisley print mixed with the pom pom hem just screams warm weather and vacations. It is everything that you would want in a Spring/Summer dress and can be worn anywhere from a backyard BBQ to a nice dinner date by the beach.
Lastly, the fit is so flattering for the plus-size frame. The drop-waist hem allows the garment to mold around your shape. The ruffles on the top and bottom of the dress balance each other out and, although they add volume, they give the illusion of a minimized midsection.
I thought it would be fun to add a little pop of color, and red was the perfect complement. It's Americana style but in an unexpected way. Red high-heel sandals, a red clutch and, of course, my go-to red lipstick was all I needed to complete this Spring look!
Outfit details:
Dress: Venus*
Photographer: Steve Suavemente
*This post is sponsored by Venus. All opinions are my own